If your organization uses a small business accounting application, you probably dread the invoice process. It can be tedious and a complete time drain. That's because your software simply isn't up to the task and isn't robust enough to streamline and automate the invoice to purchase process.
We work with businesses of every size and in every industry to help them find the right technology that makes the invoice to purchase process easier.
These are some of the most common invoice to purchase challenges we've come across:
Invoice processing takes forever
There's too much paper involved
Invoice approvals are slow
Payments are often late
There's no clear picture of what you're spending on your vendors
It's impossible to match POs and receipt numbers
You don't have a flexible framework that can provide purchase order, goods receipt purchase order, AP invoice and outgoing payment at once – or just one of these the moment you need it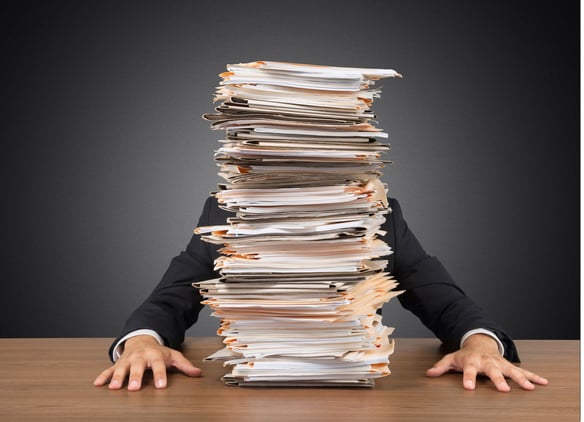 Small Changes, Big Impact: Steps to Invoice to Purchase Automation and Integration
You've probably heard the term digital transformation - but you might be wondering what it means, and even more so, what does it mean for your business. Think about it like this: You are likely overwhelmed with decisions more than ever - and looking at new ways to do business to bounce back from a changing world. That can seem like too big an obstacle to take on – but it doesn't have to be that way.
Many of our clients have started with just one single step – making the dive into digital transformation a little less complicated. They didn't try to solve all their problems in a day. They just took one step forward asking themselves - what can I automate or integrate to make this one business area run better? Making even one small change to your technology can have a big impact in your business. For example, digital transformation could mean a simple solution to automate your purchase to pay process. Or maybe a mobile app for your team to capture expenses without all of the paper. It's simply embracing technology to help run your business better.
Get our free Understanding Digital Transformation eBook to learn how technology can enable new ways to do business, build resiliency, and help you operate more efficiently.
Explore Our Blog

Success Stories

Additional Resources
Explore These Blog Posts
Poke around these brief, informative posts about invoice to purchase challenges and how to overcome them. You'll find lots of free resources, too.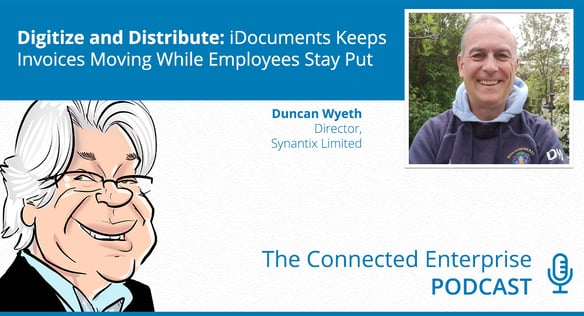 Duncan Wyeth, director of Synantix, spoke with Carl Lewis, Vision33's Connected Enterprise Podcast host, about how iDocuments' automation solutions help businesses become more efficient, manage increasing accounting transactions, and stay on track despite a remote workforce.
Read this brief blog to learn about automation solutions to streamline your business processes, and tune into the full podcast!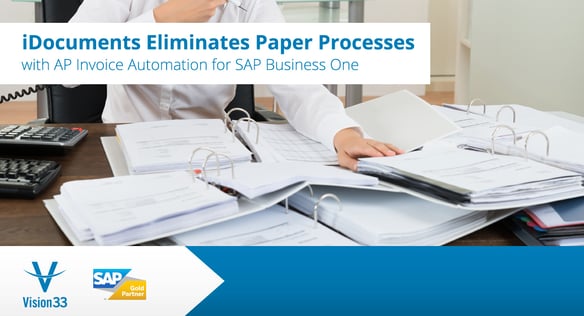 Learn how an AP invoice automation solution can reduce your AP team's workload, eliminate paper, speed up the approval process, help you pay suppliers on time, and increase overall business efficiencies.
Read the short blog and tune into an informative webinar!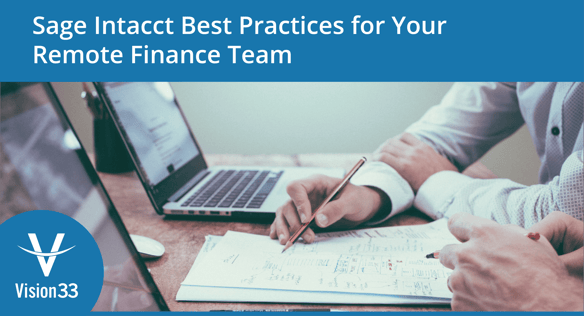 After the 2008 financial crisis, many professional services organizations implemented best practices with positive results, and businesses can apply those best practices today.

Read this blog to learn seven best practices for professional services organizations and how a financial management solution like Sage Intacct can help your organization become more resilient and adaptable.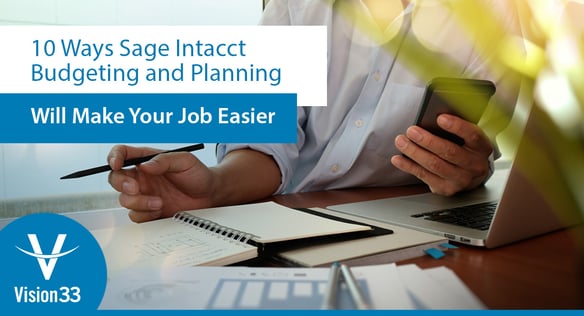 There's a way to tackle budgeting and planning that isn't complicated or expensive. Sage Intacct Budgeting and Planning is a simple but powerful cloud solution that may be the ideal tool for your organization.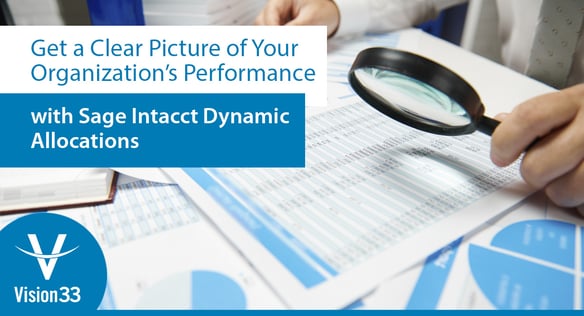 Are you spending days or weeks every month calculating, verifying, and troubleshooting complex and cross-entity allocations? Do you wish you had more time to focus on strategic thinking, innovation, and growth?

Read this blog to learn how a solution from Sage Intacct can help.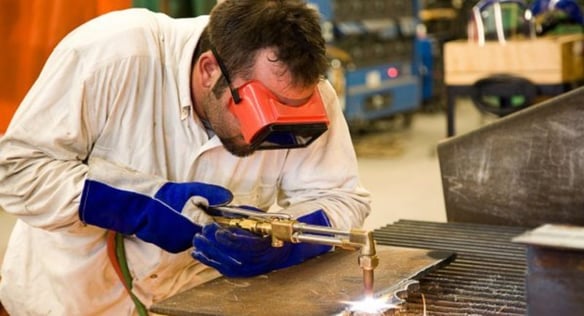 Let's say you have to track an opportunity through the sales cycle, develop an estimate for a new part, publish a quote, and convert the quote to an order then it has to be approved by the prospect. But what do you do when your current software systems aren't sufficient to streamline these processes together?

Read this blog to learn what an ERP solution can do for your business and check out the included video!
Wouldn't it be nice to get your customers to pay you faster? This blog explains a payment processing add-on that has helped businesses provide added convenience to customers in non-traditional sales channels.

Remember, as you offer more ways to transact with your business, it's equally important to provide more ways to pay.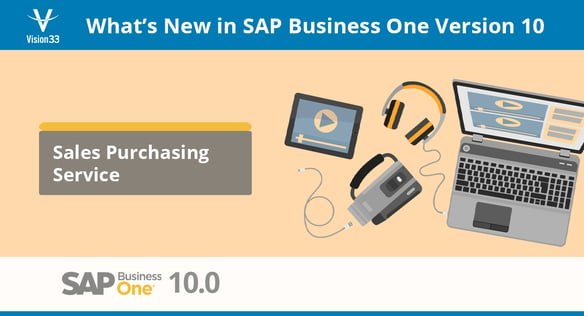 Your business management solution is the heart of your organization. If it can't keep pace with business needs and new technology investments, you may need to re-platform with new technology.

This blog outlines a few version 10 enhancements that put SAP Business One at the core of your digital transformation strategy.
See How Businesses Like Yours Improved Their Invoice to Purchase Process
Hit the play button on quick, inspirational videos and read success stories to see firsthand how some of our awesome customers have conquered invoice to purchase challenges.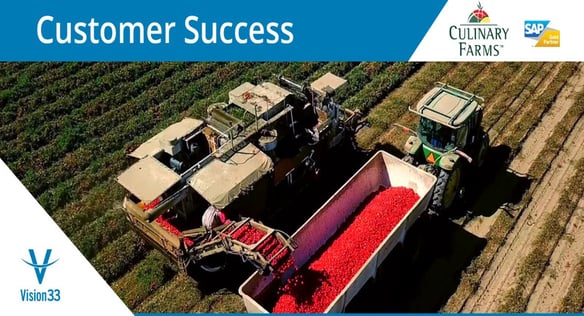 A powerful ERP solution is the backbone of Culinary Farms' accounting system and it drives the organization's inventory and production processes.

Tune into this quick video to learn more about the ERP solution that has allowed Culinary Farms to optimize efficiencies and processes to make better business decisions.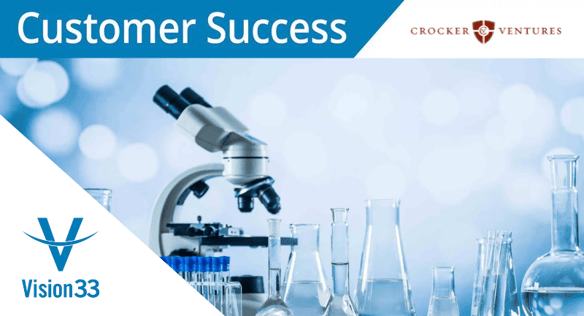 Crocker Ventures were challenged with achieving accounting compliance, integrating three strategic business lines, and a lack of visibility across their inventory.

Read their success story to learn about a cloud-based solution that has consolidated their accounting applications, reduced duplicate data entry and provided simple inventory tracking to achieve industry compliance.
Key Info Systems had data stored in different places as a result of outgrowing their small business accounting application.

Watch this quick video to see how with a powerful ERP solution in place, Key Info Systems can now create reports in real-time that they couldn't get from their previous financial package to make faster and more informed decisions.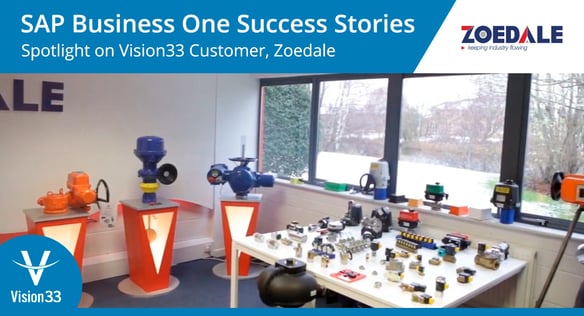 As Zoedale's inventory and client list grew, their software couldn't go with the flow.

Check out this video to see how since implementing an ERP solution, Zoedale has access to real-time reporting to determine turnover, gross profit margin, number of orders and the average value of orders. KPIs for each department allow Zoedale to spot trends before they happen, transactions are more efficient, and the company has improved visibility into its cash flow.
Check Out These Resources Too
Here are even more resources for you to explore, including information about process automation and ERP solutions.

iDocuments is a browser-based solution that simplifies and automates purchase to pay, expense management and sales order processes. We've also included resources about Sage Intacct and SAP Business One, two popular ERP solutions.

If you have any questions or would like to chat about any of these finance and accounting resources, please feel free to drop us a line or Live Chat with one our Consultants to get your questions answered.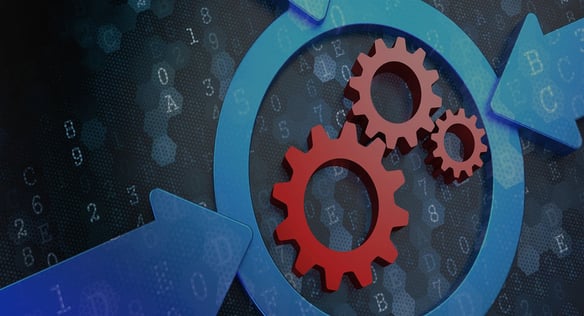 If you want to free up some time and be more productive on a daily basis, we invite you to check out this video about iDocuments.

See how easy it can be for anyone within your business to raise a PO and approve orders, receipts, invoices and expenses without any training.

Duncan Wyeth, director of Synantix, spoke with Carl Lewis, Vision33's Connected Enterprise Podcast host, about how iDocuments' automation solutions help businesses become more efficient, manage increasing accounting transactions, and stay on track despite a remote workforce.

Sit back and listen to the podcast to learn about automation solutions to streamline your business processes.
ERP Solutions for Your Unique Business Needs
If you run a professional services business or a nonprofit organization, Sage Intacct can be a great fit. Access a Sage Intacct Info Kit and Coffee Break Demo below.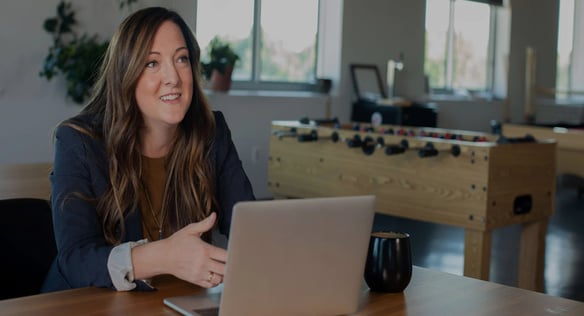 That accounting system you relied on to get your business started may have run its course. Sage Intacct's cloud accounting software products and financial management solutions deliver accounting capabilities for multiple industries with a single aim: to accelerate your success. Dig into the Info Kit below to learn how you can free up time to focus on innovation and growth.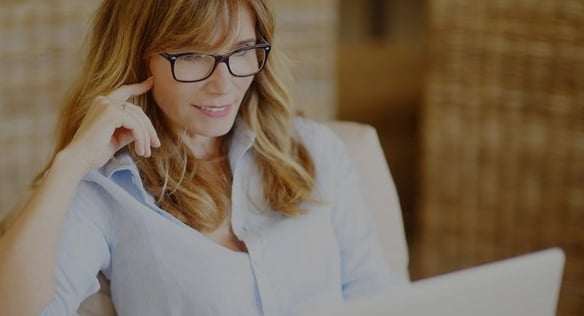 SAP Business One is a robust ERP solution that brings every aspect of your business – financials, accounting, inventory, customer relationship management and more – together under one simple platform. This easy-to-use information kit full of solution briefs, videos, demos and webinars.
If your business is manufacturing or wholesale distribution, SAP Business One may be the ideal solution. Explore the resources in the SAP Business One Info Kit below.

We put together an awesome resource center for you to learn all about ERP. Access videos, webinars, FAQs, blogs, eBooks and other downloadable information – all in one place.

Grab a cup of coffee, put your feet up, learn all about Sage Intacct and see it in action. This demo will show you how the modern, born-in-the-cloud accounting and financial management solution has everything you need to connect and streamline all of your business processes.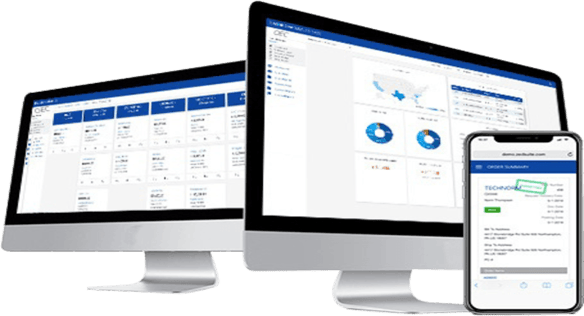 We live in a self-service world – we expect the information we want anytime we want it. The Vision33 web portal add-ons for SAP Business One enable self-service access to real-time information in SAP Business One anytime, anywhere, and on any device.
See the Employee, Customer and Vendor Portals in action in brief on-demand demos.