A bill of materials (BOM) is the heart of any manufacturing business, and you must carefully manage this comprehensive list of required parts, items, raw materials, and assemblies you need to manufacture a product.

Things get complex if you manufacture multiple products that require separate BOMs. And automating and streamlining the BOM process is extra difficult if you're using outdated or inadequate software.

Regardless of what you manufacture or which type of BOM your business uses, an accurate and well-managed BOM increases revenues with faster product releases and lower product costs. A poorly managed BOM leads to longer time-to-market and profit loss.

The manufacturing industry is challenging enough—don't waste time with piles of spreadsheets to manage your BOMs. Vision33 has worked with countless manufacturing businesses to help them find technology that streamlines their manufacturing processes and automates even the most complex BOMs.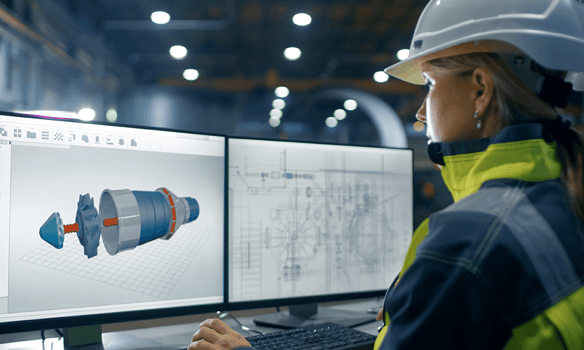 Our customers commonly report these BOM challenges:
Difficulty creating multi-level BOMs
Inaccurate BOMs leading to extra costs or product liabilities
A lack of support for variant configuration
Shipment delays from missing parts
The input of data on a BOM-by-BOM basis
A lack of material requirements planning (MRP) capabilities

Small Changes, Big Impact: Understanding Digital Transformation
There are many definitions of digital transformation, but here's our favorite: Adopting new—or modifying existing—technology to make your business run better.

This transformation fundamentally changes how businesses operate and deliver value.

Many believe digital transformation is simply using the cloud and analytics. However, those are only two elements of a digital transformation. A comprehensive transformation occurs only when an organization also improves its integration, automation, and system flexibility.

With a successful digital transformation, tackling new challenges, shifting operations, and updating business models are effortless.
Get our free Understanding Digital Transformation eBook to learn how technology enables new ways to do business, build resiliency, and operate more efficiently.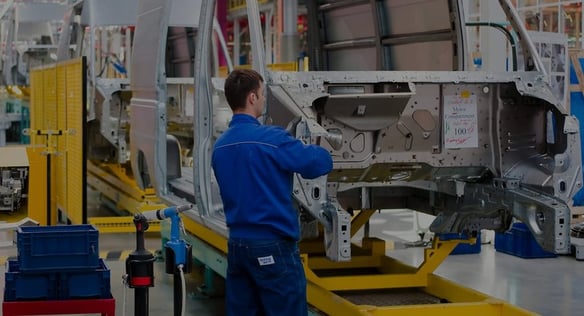 Bill of Materials Best Practices eBook
Consider this free eBook a recipe for success. It explains how managing your BOMs better will improve your bottom line.

Whether you're setting up BOMs for the first time or trying to improve production, you'll see how the right technology gives you the ingredients you need to streamline your operations and outshine your competition.
Explore Our Blog

Success Stories

Additional Resources

Podcast
Explore These Bills of Materials Posts
Have a look through our top blogs about BOMs. Get a better understanding of what they are, their challenges, and solutions to improve your BOM management. You'll find lots of other free resources, too.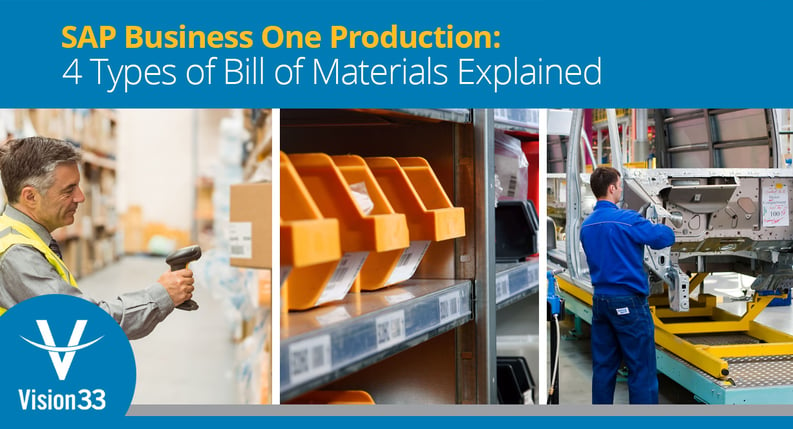 4 Types of Bills of Materials Explained
Generating BOMs and keeping track of the entire production process stage-by-stage can be complex and error-prone.

Read this blog to learn about BOMs and an enterprise resource planning (ERP) solution that saves time and ensures accuracy. Check out the video too.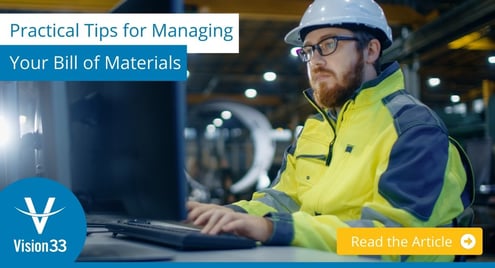 Practical Tips for Managing Your Bills of Materials
Vision33 hosted a webinar featuring Dave Gutman, a solutions consultant at Boyum IT. Founded in 1997, Boyum IT is a global, award-winning SAP Business One implementation, consultancy, and development house. Dave chatted with Vision33's Carl Lewis about how to get a handle on BOMs.

Read the blog to learn more and get a link to the webinar recording.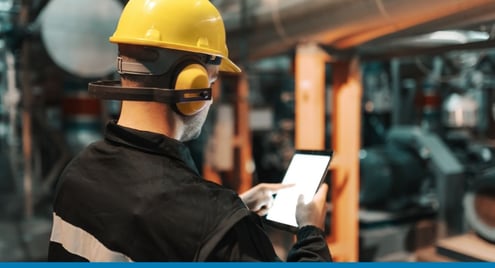 ERP for Manufacturing Series, Part 1: Why Manufacturing ERP Is Vital for Small and Midsized Manufacturers
Manufacturers must be more agile than ever in today's uncertain economy. Collaboration and efficiency are must-haves, not nice-to-haves.
47% of organizations seeking to buy ERP are manufacturers. Read this blog to understand why and access our free ERP info kit.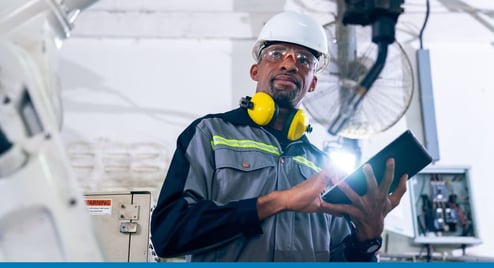 ERP for Manufacturing Series, Part 2: The Best ERP for Manufacturing Depends on Your Business
Often, business owners have researched manufacturing ERP in detail but only found resources that discussed it in broad terms. However, they know their businesses are more complex—and they want specifics, not generalities.
This blog explains the ERP needs of the three most common manufacturers: discrete, process, and project.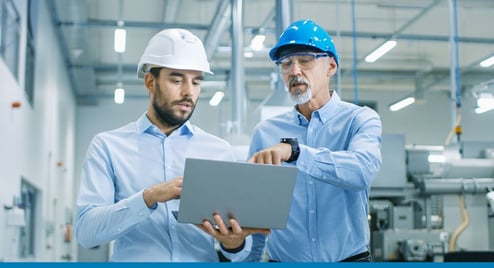 ERP for Manufacturing Series, Part 3: SAP Business One and SAP Business ByDesign: The Best ERPs for Small and Midsized Manufacturers
Small and midsized manufacturers need to run operations their way, and SAP Business One and SAP Business ByDesign adapt to how you do business—not the other way around.
This blog explains why we recommend these solutions as the best ERPs for manufacturing companies like yours.
See How Businesses Like Yours Handle Bills of Materials
Hit the play button on short, inspirational videos and read success stories to see firsthand how some of our customers have improved their BOM management.
FlenTek Solutions, Inc. designs and manufactures motor controller systems for OEM (original equipment manufacturer) products, such as forklifts and industrial, electric, and autonomous vehicles.
The right ERP solution allows Flentek to easily create and store BOMs, which is critical because FlenTek customers rely on quick fixes to complex products, such as airport belt loaders, that require spare parts and servicing. Quick BOM lookups help FlenTek respond faster to in-field service requests.
Advance Adapters has designed, engineered, and manufactured transmission conversion adapters, transfer case conversion adapters, and engine mounts for vehicles since 1971.

Get revved up by this three-minute video that shows you how the right technology transformed Advance Adapters and led to the company almost tripling in size.
Richardson Caps manufactures a vast range of headwear for customers worldwide.

Tune in to this quick video to learn about the technology that supports the company's high-quality manufacturing standards and ensures it always offers customers the right product at the right time.
McRoskey Mattress Company has been manufacturing mattresses for over 100 years.

Watch this short video to learn how its ERP solution enables McRoskey to run sales, production, fulfillment, and accounting in one easy-to-use system.
Emerald Home Furnishings supplies furniture to home furnishings retailers worldwide.

Watch this quick video to learn about the user-friendly solution that has transformed the company's inventory management, streamlined its business processes, and created efficiencies in its manufacturing and production processes.
Access More Resources and Get in Touch
Here are even more BOM resources for you to explore. These videos discuss how to improve your bills of materials management and order management process. And don't miss our Saltbox demo to learn how an integration platform saves time, money, and energy by integrating your manufacturing and business management solutions.

If you have questions or want to chat about these BOM resources, please drop us a line.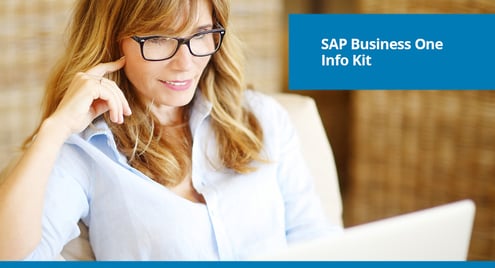 ERP Info Kit: SAP Business One
SAP Business One is an affordable, easy-to-use ERP solution for growing small to midsized businesses and large enterprise subsidiaries.
We compiled the latest, most essential information for anyone researching or considering adopting SAP Business One. In one easy-to-use kit, you can access solution briefs, videos, demos, and a webinar series to see Business One's features and how it could improve your operations.

ERP Info Kit: SAP Business ByDesign
SAP Business ByDesign is an affordable, easy-to-use cloud ERP solution for fast-growing businesses.
This collection of easy-to-digest assets is ideal for anyone researching or considering adopting SAP Business ByDesign. After exploring the solution briefs, videos, and demos, you'll see how SAP Business ByDesign could help your business turn growth potential into real results.
Watch this equipment manufacturer's short success story to see how it got a grip on order management, eliminated manual processes, and tightened up its BOMs. You'll also see how the company now has traceability from the warehouse to service care.
Your business relies on many applications to stay organized, collaborate, and run operations. If those standalone applications can't talk to each other, you're wasting time and money.
Learn about an integration platform as a service (iPaaS) solution that can connect just about anything.
See it in action and discover how to do more with what you already have.
Listen to Our Podcasts
On The Connected Enterprise podcast, Vision33's Carl Lewis interviews bright minds and industry thought leaders about enterprise technology and what's coming next.
We think you might enjoy these episodes: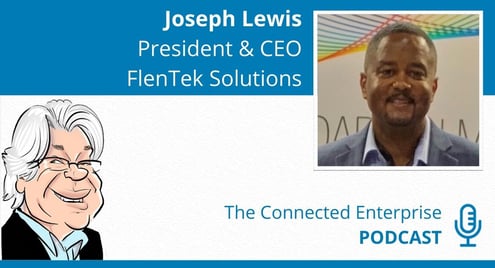 A Vehicle for Efficiency: FlenTek Solutions Shares Its Shift to Cloud ERP
It's not every day that two Lewises are on the podcast. Host Carl Lewis sat down with Joe Lewis, president and CEO of FlenTek Solutions. FlenTek designs and manufactures motor controller systems for original equipment manufacturer (OEM) products, such as forklifts and industrial, electric, and autonomous vehicles. The company also sells color systems to businesses that test food, paint, and plastic colors.
Carl and Joe chatted about FlenTek's shift to a cloud-based enterprise resource planning (ERP) solution, its benefits, and advice for other businesses considering the cloud.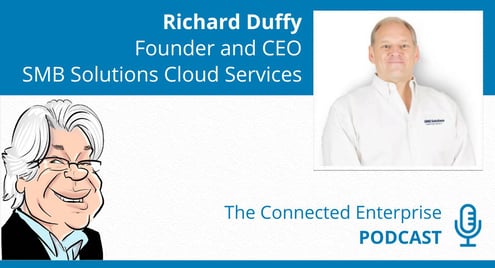 A Technology for the Times: Richard Duffy Discusses the Cloud
Richard Duffy says, "If you have trouble sleeping, search for my name and SAP Business One. You'll find hours of me talking about the powerful enterprise resource planning (ERP) solution and how it will make your business run better."
Richard joined Carl to chat about how cloud adoption is progressing, the advantages of the cloud over on-premises solutions, and why the cloud is a technology for the times.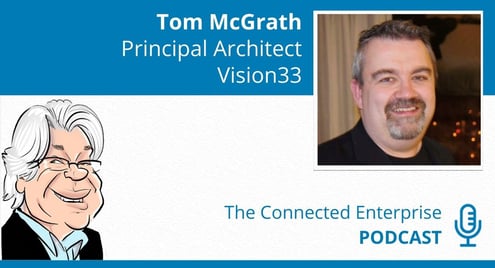 Accelerating Integration and Digital Transformation: Tom McGrath Discusses iPaaS and The Saltbox Platform
Tom is the principal architect for Vision33's Innovations team, where he oversees the strategic technical direction of the company's exclusive products.
Tom joined Carl to discuss digital transformation, integration, and how an integration solution is a game-changer for small businesses.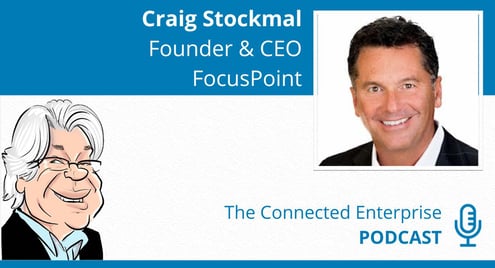 360-Degree Customer View: FocusPoint Makes ECommerce Easier
Craig Stockmal from FocusPoint realized it wasn't easy to integrate B2B eCommerce with SAP Business One, a robust ERP solution. It was a lengthy process that sometimes cost more than the ERP solution. FocusPoint's goal became creating the best SAP Business One eCommerce solution at a price that doesn't crush the bottom line.
Today, FocusPoint's experts engage with over 300 SAP Business One customers on their eCommerce journeys, extending ERP functionality to provide a 360-degree customer experience.
Craig joined Carl to chat about B2B eCommerce, customer engagement, and how businesses can integrate their entire tech stacks.