Ready for a cloud ERP that empowers you to thrive through constant change?
SAP S/4HANA Cloud, public edition is a modern, intelligent, cloud-based enterprise resource planning (ERP) solution that streamlines operations, improves decision-making, and keeps businesses competitive in a fast-changing market.
As a software as a service (SaaS) solution, SAP S/4HANA Cloud is scalable, flexible, and easy to use, making it suitable for businesses of all sizes and industries. This cutting-edge technology provides real-time and predictive analytics and machine learning capabilities—all on one platform.
And because it's cloud-based, SAP S/4HANA Cloud eliminates the need for extensive IT resources or upfront hardware and software investments.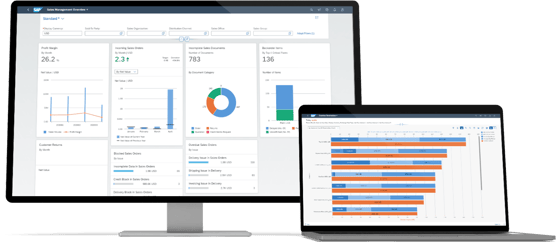 Unlocking Business Agility: Why SAP S/4HANA Cloud Is the Ideal Solution for Modern Enterprises
SAP S/4HANA Cloud is ideal for industries like manufacturing, retail, wholesale distribution, and professional services, where operational efficiency, real-time insights, and flexibility are critical to success.
Whether you're a start-up business, an established enterprise, or a complex operation with subsidiaries, SAP S/4HANA Cloud drives growth and success.
What technology experts say
about SAP S/4HANA Cloud.
Gartner named SAP S/4HANA Cloud as a Leader in its 2022 Magic Quadrant™ report for Cloud ERP for

Service-Centric

and

Product-Centric

Enterprises.
Gartner
SAP recognized as a

leader in digital operations platforms

.
Forrester
IDC MarketScape has positioned

SAP as a leading choice for cloud ERP

.
IDC MarketScape
SAP S/4HANA Cloud's cutting-edge features include:




Real-time analytics
Make informed decisions, easily track performance metrics, and adjust strategies.


Predictive analytics
Analyze past data, predict outcomes, forecast demand, identify potential risks, and optimize operations.


Machine learning
Automate routine tasks, improve efficiency, and identify patterns/insights that might be undetectable by employees.
Cloud-based
No need to purchase and maintain hardware, plus flexibility to scale up or down as needed.
Integration
Integrate with other SAP solutions and third-party applications to consolidate data and streamline processes.
Unleashing Business Potential: Benefits of SAP S/4HANA Cloud for Enhanced Performance
As a cloud-based SaaS solution, SAP S/4HANA Cloud provides automatic updates, keeps businesses competitive by streamlining operations, and offers real-time insights into business performance.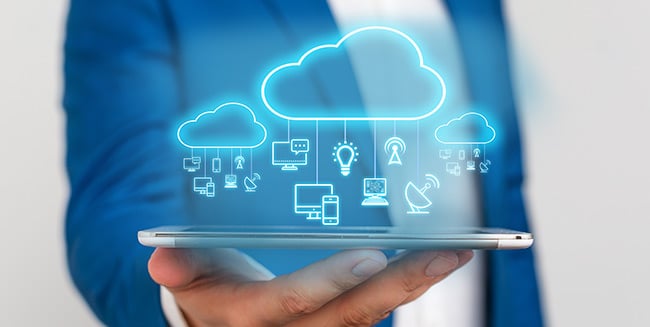 Other SAP S/4HANA Cloud benefits include:
Increased
efficiency
Save time and resources, optimize operations, and improve efficiency by using machine learning to automate routine tasks.
Reduced
costs
Enjoy a lower total cost of ownership by not having to purchase and maintain hardware and paying only for what you use.
Improved
decision-making
Use real-time and predictive analytics to make well-informed decisions, respond to market changes, and make strategic decisions that drive growth.
Ease
of use
Get started without extensive training or IT resources. Enjoy a consistent experience on every device. Collaborate with your team via MS Teams and Google integration.
Scalability
Easily add or remove users and services without additional hardware or software.
Faster
implementation
See SAP S/4HANA Cloud's benefits sooner.
Flexibility
Easily customize and configure the system to meet specific needs/requirements.
SAP's Unwavering Commitment to S/4HANA Cloud and Your Business's Success
As a true SaaS solution, SAP S/4HANA Cloud receives regular updates so customers always have the latest innovations.
SAP offers two new releases of SAP S/4HANA Cloud per year, plus monthly feature updates. These updates improve the user experience, strengthen performance, enhance security, increase uptime, reduce the risk of downtime, and help businesses stay ahead of the competition.
As your dedicated SAP partner, Vision33 offers resources that help you maximize your SAP S/4HANA Cloud investment. These resources include online training materials, webinars, support forums, and dedicated customer support teams to answer questions and provide guidance.

Let's Meet Your Challenge Together
By focusing on constant improvement and offering various resources to help customers get the most out of SAP S/4HANA Cloud, Vision33 is here to help you succeed in today's digital economy. Want to get started with SAP S/4HANA Cloud, public edition?
Contact us or see how the 'GROW with SAP' program can help you get started quickly and easily.