Small and midsized businesses (SMBs) are moving away from accounting solutions like QuickBooks toward enterprise resource planning (ERP) solutions like SAP Business One. While QuickBooks works well for startups, growing businesses need ERP's broader and deeper capabilities.
SAP Business One vs. QuickBooks
With over 60,000 customers and one million users, SAP Business One is the top choice among growing businesses that need more than QuickBooks's limited functionality.
With SAP Business One, SMBs can serve their customers and run their businesses in ways that are impossible with QuickBooks, including fully integrated functionality in:
Accounting and finance
Sales and customer management
Inventory and distribution
Purchasing and operations
Reporting
With SAP Business One, you can operate faster and more efficiently at scale because your data is immediately accessible and secured for company-wide use.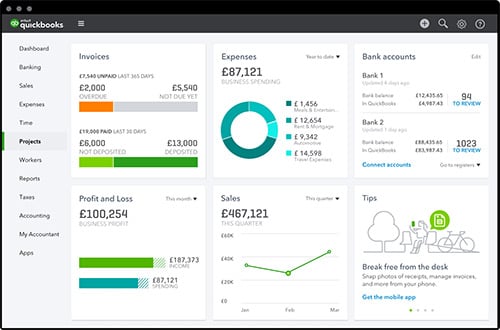 Challenges

Growth

QuickBooks to ERP

Industry Solutions

Customizations

Key Features

SAP Services
Information in QuickBooks is scattered across several applications and has no central location to perform data analysis. The result is that data must be manually re-entered into each application, leading to errors and decreased productivity.
Integrations beyond the core QuickBooks applications are weak or nonexistent. Organizations must manually import and export data when integrating with customer relationship management (CRM) solutions and other must-have applications. Industry-specific add-ons such as retail inventory management frequently fail due to a QuickBooks ecosystem that lacks the necessary modules, widgets, and APIs.
Unlike QuickBooks, ERP systems easily account for product batches, multi-warehouse approaches, FIFO support, and various product costing measures (e.g., average and standard cost). QuickBooks is limited to basic tracking, and even that depends on desktop and web-based add-ons.
Small businesses need to continually update innovative add-ons to keep pace with larger competitors, but QuickBooks can't support many industries, including manufacturing, distribution, life sciences, and food and beverage.
Even when QuickBooks provides the required functionality, growth is stunted by poor system performance. When a business reaches ten users or must input a lot of data, QuickBooks's performance slows to a crawl, leaving users unable to complete core processes and reporting on time.
Too many SMBs using QuickBooks waste significant time and resources manually gathering data for reports because it's challenging to access and manipulate data in QuickBooks. Whether it's GAAP, SOC, or customer-driven reporting, QuickBooks only delivers basic reporting functionality suited to average users.
But customers, suppliers, and regulators often want the unique reporting you can only find in SAP Business One, including Crystal Reports, richly formatted reports, and dynamic reporting from virtually any data source.

Infographic: Why companies migrate from QuickBooks to SAP Business One
Business owners open themselves up for endless possibilities when they leave QuickBooks for SAP Business One. View this infographic for the top 3 reasons they take this transformative step and improve their future.

Golfzon Leadbetter scales more profitably by choosing SAP Business One
Golfzon Leadbetter, a golf academy, migrated from QuickBooks to SAP Business One when QuickBooks couldn't manage its growth from one location to 26 global locations.
As your business grows, you'll inevitably discover QuickBooks's shortcomings. Growth means you must move beyond accounting software to business management software.
Over 80% of our SAP Business One customers migrated from QuickBooks.
Four signs told them it was time for ERP:
Manual data entry caused increasing errors
No integration between QuickBooks and other applications caused inefficient workflows
Maintaining visibility into growing inventory was difficult
Poor system performance was hurting employee productivity
But often, the negative impact on customers is the ultimate dealbreaker. Incorrect orders and late shipments lead to increased dissatisfaction and decreased revenue.
"SAP Business One has streamlined our processes and helped us become one of the fastest shippers in the industry. Whereas the competition can take several weeks to deliver an order, VIETRI can do it within 2 to 3 business days, on average."
- Jody Davis, Customer Service and IT manager at VIETRI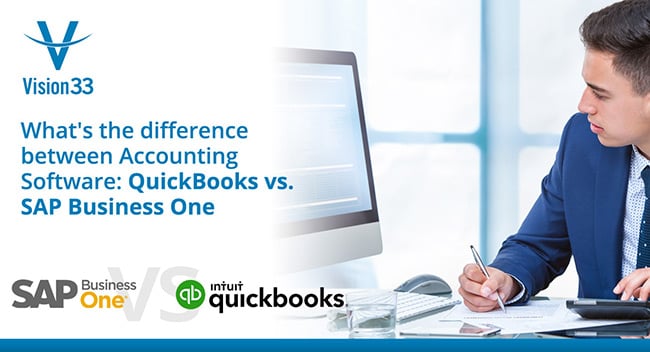 What's the difference between accounting and business management software? Gain summary-level insights into the most critical factors.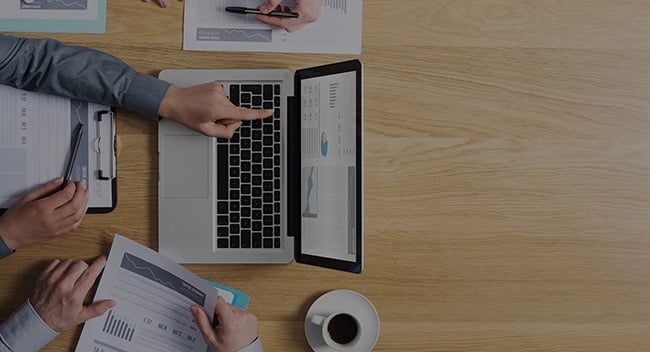 Is accounting software holding your business back? Here's a simple guide to compare your use of QuickBooks versus ERP.
For most SMBs, ERP is the most transformative step they'll make in their evolution because it manages the entire business. Extracting the most value from ERP and transforming your business for maximum scale and efficiency requires six critical steps.
As the largest SAP Business One partner in the world, we've based these six steps on hundreds of successful first-time ERP implementations:
Assess your need for business management software
Understand the difference between ERP and accounting software
Determine your ERP readiness
Evaluate ERP software
Select an ERP partner
Choose the right ERP deployment option
Each step involves careful consideration, planning, and participation by multiple stakeholders from different departments and levels of your organization. That way, you ensure proper selection, implementation, and use of your ERP software.
We strongly recommend starting your journey from QuickBooks to ERP by reading this comprehensive ERP software selection guide.

Review the ERP software selection guide
Are you considering an ERP solution? This transformative technology unifies growing businesses' operations and extends their capabilities beyond accounting.

Graduating from QuickBooks
Graduating from QuickBooks? This eBook is a must-read to learn how an ERP solution will drive your business forward to the next stage of growth.

On-premises vs. Cloud ERP guide
This guide details the advantages of each deployment model.

Cloud information kit
Our cloud information kit is the perfect starting point to help you decide if the cloud is right for your business.
SAP Business One provides extensive functionality in most industries, and its software development kit (SDK) gives software developers expanded integration points, allowing you to customize your SAP Business One deployment with industry-specific innovations from a long list of providers.
The result is in-depth solutions for:
Aerospace and defense
Food and beverage
Distribution
Manufacturing
Oil and gas
Retail
Life sciences
Growing SMEs perform better when using an ERP system that delivers company- and industry-specific features.
Vision33 has deep expertise in planning and implementing SAP Business One to enable industry-specific processes that work how your business works.
No matter which industry you compete in, powerful SAP Business One customizations and add-ons optimize the platform's value.
Vision33's SAP-certified consultants will deploy SAP Business One to maximize your company's unique differentiators, and SAP Business One's broad range of capabilities will speed your operations and expand your market reach.
"Vision33 helped us transition to the cloud with SAP Business One. Not only can our sales professionals perform better from wherever they are, we have one place where all information can be found."
Craig Bean, CB Medical
The Saltbox Platform is a cloud-native, low-code integration platform as a service (iPaaS) solution that empowers SMEs to integrate disconnected business systems like ERP, CRM, and eCommerce.

By eliminating data silos and automating manual processes, Saltbox unlocks new levels of operational efficiency and cost savings.
Vision33 offers two value-add web portals for SAP Business One:
Customer Portal
Employee Portal
Each portal makes SAP Business One a powerful enabler for speeding daily work and reducing mundane support tasks.
Customer Portal gives customers a secure, flexible, personalized self-service gateway to retrieve and interact with information in a standard web browser. It's a convenient, self-service way for your customers to make online payments, manage orders, and more.
Learn more about Customer Portal
The Employee Portal puts employees in the driver's seat with access to the information they want and need at any time. A real-time, web portal that integrates with SAP Business One and gives them tools to get the work done.

Juice Beauty expands as business complexity grows
SAP Business One helped Juice Beauty grow its revenue 50% by better managing complex product development cycles and batch control of USDA-certified ingredients.

Emerald Home Furnishings manages growth to exceed $100M
SAP Business One helps Emerald Home Furnishing compete for larger contracts against bigger competitors.

The Fruit Company optimizes traceability
SAP Business One helped The Fruit Company improve the accuracy and efficiency of purchasing, warehousing, and shipping and maintain complete and real-time product traceability.
SAP Business One's wealth of core capabilities will drive your business efficiency and position your company for profitable growth. The platform's five key features deliver unsurpassed operational benefits, including:
End-to-end business automation
Accurate real-time reporting and analytics
Complete operational visibility and control
Access to critical data anytime, anywhere
Rapid time to value
SAP Business One continually evolves as market dynamics change—you can visit our SAP Business One page to learn what's new.
Financial management
Improve margins, reduce errors, and drive more profitable decision-making with a complete set of tools for streamlined financial operations.
Sales & customer management
Oversee the sales process and customer lifecycle more efficiently, from initial contact to final sale, after-sales service, and support.
Inventory & production functionality
Gain complete control in warehousing, inventory, stock movement, production, and MRP and make faster decisions based on detailed reporting for all areas.
Reporting & real-time analysis
Empower your employees to make smart, confident decisions faster by capturing all critical information and making it instantly available company-wide.
Business intelligence (BI)
Create timely and accurate reports based on company-wide data with analytics and reporting tools.
Vision33 is the only SAP Business One partner that holds the AWS SAP Competency, and our Global Services group routinely helps SMEs expand into new geographies, making us the ideal implementation partner for growing businesses. Post-implementation, Vision33 continues to deliver value through our industry-leading support program, TOTAL Care, and ongoing ideation and implementation services from our world-class consulting team. They help customers continuously innovate using the best industry-specific add-ons and integrations to support new business initiatives and evolving market demands.

How to identify the right ERP partner
Read this blog to learn how to develop an ERP vendor shortlist and see how our Global Services team can help you expand into new locations and implement SAP Business One everywhere you need it.

Tolteca Foods
The largest US distributor to Mexican restaurants chose Vision33 to implement SAP Business One. The platform transformed the entire operation, and now Vision33 provides ongoing TOTAL Care services to support Tolteca's goal of continuous service-level optimization.

Get started with SAP Business One
Vision33 makes it easy for you to learn more about SAP Business One and see how it compares to NetSuite and other ERP solutions. Start with our 9-point comparison guide.

Get in touch
Vision33 transforms business processes and results for customers by delivering value through the promise of technology and its benefits for growing businesses. Get in touch to see how an ERP solution can help your business.