The Clear Leader for Small and Midsized Enterprises
SAP Business One has many advantages over NetSuite—advantages that address the critical ERP needs of small and midsized enterprises (SMEs).
With over 60,000 customers and one million users, SAP Business One is the preferred ERP solution for SMEs. Businesses can offer a better customer experience and run more efficiently because SAP Business One provides complete and fully integrated functionality around financials, operations, CRM, inventory, and payroll.
NetSuite can't. It's no wonder SAP is #1 in global ERP market share.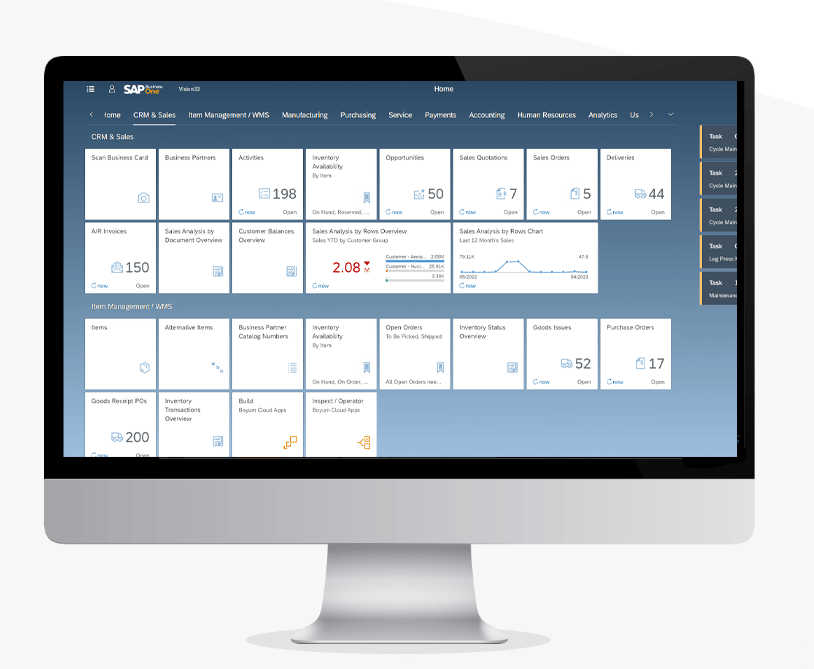 The SAP Difference

SAP HANA

Deployment Options

Industry Solutions

Customizations

Key Features

SAP Services
SAP Business One outpaces NetSuite in multiple areas that affect how you do business. SAP Business One puts you in control and makes ERP work for you in ways NetSuite can't.
Only SAP Business One lets you:
Maintain complete control over how you run your business
Gain enterprise-level performance at SME prices
Seamlessly evolve your ERP deployment in line with business changes, growth, and expansion
Maintain control
SAP Business One has a large ecosystem of industry-specific customizations, unlike NetSuite's pre-configured structures that force you to work their way.
And you decide when to upgrade SAP Business One, whereas NetSuite dictates customer upgrades, potentially disrupting operations.
Maximize data performance
Access and analyze data at will in SAP Business One—versus paying NetSuite's added fees to export data out of its environment.
Plus, SAP HANA in-memory computing for SAP Business One supercharges application performance and allows real-time analysis of massive data volumes. NetSuite's platform has no equivalent.
Optimize the deployment
SAP Business One offers flexible deployment models: cloud, hybrid cloud, and on-premises. NetSuite is only deployable in the cloud.
And you can easily add features, functionality, and customizations over time with a local SAP Business One partner who knows your business—far superior to NetSuite's remote-only interactions from an overseas support center.
With its in-memory computing power and high levels of real-time data accessibility, SAP Business One powered by SAP HANA eliminates the layers of complexity common in cloud-based ERP solutions like NetSuite.
NetSuite relies on third-party applications to cobble together a feature set that supports business processes. That's a problem because every web application added to NetSuite increases information requests to and from the system.
Add NetSuite's nagging workflow and custom scripts issues, and your employees' work slows too often when accessing records or running a report. In the end, NetSuite drains productivity and demotivates your staff.
"SAP Business One has streamlined our processes and helped us become one of the fastest shippers in the industry. Whereas the competition can take several weeks to deliver an order, VIETRI can do it within 2 to 3 business days, on average."
Jody Davis, Customer Service and IT manager at VIETRI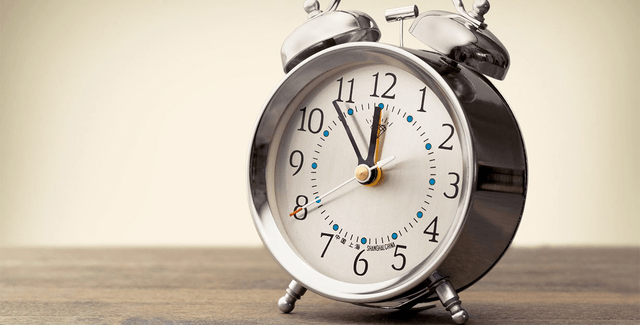 Choose SAP HANA for greater data accessibility.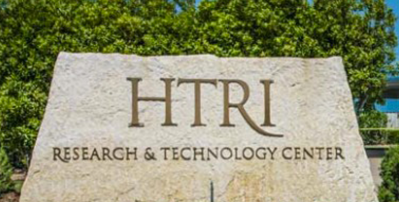 How does HTRI streamline its data-driven processes and inter-departmental workflows? With SAP Business One powered by SAP HANA.
SAP Business One offers more deployment options than NetSuite
How you deploy an ERP solution is as important as its features and functions. Unlike NetSuite's cloud-only deployment, SAP Business One offers cloud, on-premises, and hybrid cloud options.

The Hidden Costs of NetSuite Cloud ERP
NetSuite doesn't offer on-premises and hybrid cloud deployments, and its cloud offering is an incomplete product. Costly add-ons, solution changes, and integration issues make the entry price of NetSuite Cloud higher, and its longer implementation times often disrupt vital operations.

Audeze doubled revenue by deploying SAP Business One in the cloud
Audeze chose a cloud-hosted solution for SAP Business One instead of NetSuite and doubled its revenue in the first year. The Los Angeles-based company manufactures in the US and competes globally, thanks to new levels of operational efficiency and high-quality products.

Need help choosing your ideal ERP deployment model?
When evaluating business management technology, deployment is a crucial decision: on-premises or in the cloud? This decision is based on your business needs, resources, and budget.

Cloud information kit
You have cloud questions. We have cloud answers. Our free cloud information kit is a great starting point to help you decide if the cloud is right for your business.
SAP Business One provides extensive functionality in most industries, and its software development kit (SDK) gives software developers expanded integration points, allowing you customize to your SAP Business One deployment with industry-specific innovations from a long list of providers.
The result is broad and deep solutions for industries like:
Growing SMEs perform better when using an ERP system that delivers company- and industry-specific features.
Vision33 has deep expertise in planning and implementing SAP Business One to enable industry-specific processes that work how your business works.
No matter which industry you compete in, powerful SAP Business One customizations and add-ons optimize the platform's value.
Vision33's SAP-certified consultants will deploy SAP Business One to maximize your company's unique differentiators, and SAP Business One's broad range of capabilities will speed your operations and expand your market reach.
"With SAP Business One, an order is made through our website, and we have achieved order turnaround in about fourteen minutes – that's real value for our customer."




- Jody Davis, Customer Service and IT manager at VIETRI
The Saltbox Platform is a cloud-native, low-code integration platform as a service (iPaaS) solution that empowers SMEs to integrate disconnected business systems like ERP, CRM, and eCommerce.

By eliminating data silos and automating manual processes, Saltbox unlocks new levels of operational efficiency and cost savings.
Vision33 offers two value-add web portals for SAP Business One:
Customer Portal
Employee Portal
Each portal makes SAP Business One a powerful enabler for speeding daily work and reducing mundane support tasks.
Customer Portal gives customers a secure, flexible, personalized self-service gateway to retrieve and interact with information in a standard web browser. It's a convenient, self-service way for your customers to make online payments, manage orders, and more.
Learn more about Customer Portal
The Employee Portal puts employees in the driver's seat with access to the information they want and need at any time. A real-time, web portal that integrates with SAP Business One and gives them tools to get the work done.

Juice Beauty Expands as Business Complexity Grows

Emerald Home Furnishings Manages Growth to Exceed $100M

The Fruit Company Optimizes Product Traceability
SAP Business One's wealth of core capabilities will drive your business efficiency and position your company for profitable growth. The platform's five key features deliver unsurpassed operational benefits, including:
End-to-end business automation
Accurate real-time reporting and analytics
Complete operational visibility and control
Access to critical data anytime, anywhere
Rapid time to value
SAP Business One continually evolves as market dynamics change—you can visit our SAP Business One page to learn what's new.

Financial management
Improve margins, reduce errors, and drive more profitable decision-making with a complete set of tools for streamlined financial operations.

Sales and customer management
Oversee the sales process and customer lifecycle more efficiently, from initial contact to final sale, after-sales service, and support.

Inventory and production functionality
Gain complete control in warehousing, inventory, stock movement, production, and MRP and make faster decisions based on detailed reporting for all areas.

Reporting & real-time analysis
Empower your employees to make smart, confident decisions faster by capturing all critical information and making it instantly available company-wide.
Vision33 is the only SAP Business One partner that holds the AWS SAP Competency, and our Global Services group routinely helps SMEs expand into new geographies, making us the ideal implementation partner for growing businesses. Post-implementation, Vision33 continues to deliver value through our industry-leading support program, TOTAL Care, and ongoing ideation and implementation services from our world-class consulting team. They help customers continuously innovate using the best industry-specific add-ons and integrations to support new business initiatives and evolving market demands.

How to identify the right ERP partner
Read this blog to learn how to develop an ERP vendor shortlist and see how our Global Services team can help you expand into new locations and implement SAP Business One everywhere you need it.

Tolteca Foods
The largest US distributor to Mexican restaurants chose Vision33 to implement SAP Business One. The platform transformed the entire operation, and now Vision33 provides ongoing TOTAL Care services to support Tolteca's goal of continuous service-level optimization.
Get started with SAP Business One
Vision33 makes it easy for you to learn more about SAP Business One and see how it compares to NetSuite and other ERP solutions. Start with our 9-point comparison guide.
Comprehensive services
The true value of software comes when it's implemented and deployed correctly so your staff and operations are more effective and your team has the information it needs to make decisions and run the business.