No matter the size of your business or the industry it operates within, your accounting and finance team shoulder a lot of responsibility. Accounts payable, accounts receivable, cash management, expense approval…the list goes on and on and sometimes there just aren't enough hours in a day to get it all done.
We partner with businesses of all sizes and in various industries to help them find technology that streamlines their finance and accounting processes. With the right tools in place, these businesses gain access to real-time information to make sound decisions, automate key accounting functions, and free up time to focus on growing their businesses.
These are some of the most common finance and accounting challenges our clients face when they first come to us:
Collecting and receiving payments from clients
Payment delays
Lack of real-time financial reporting
Manual efforts to match AP invoices to POs
Financial consolidations
Need for financial variance analysis
Inter-company eliminations/reconciliations
Manual data entry and siloed financial data leading to mistakes and reporting delays
Cash flow management
The 1099 process

Small Changes, Big Impact: Steps to Finance & Accounting Software Integration and Automation
You've probably heard the term digital transformation - but you might be wondering what it means, and even more so, what does it mean for your business. Think about it like this: You are likely overwhelmed with decisions more than ever - and looking at new ways to do business to bounce back from a changing world. That can seem like too big an obstacle to take on – but it doesn't have to be that way.
Many of our clients have started with just one single step – making the dive into digital transformation a little less complicated. They didn't try to solve all their problems in a day. They just took one step forward asking themselves - what can I automate or integrate to make this one business area run better? Making even one small change to your technology can have a big impact in your business. For example, digital transformation could mean a simple solution to automate your purchase to pay process. Or maybe a mobile app for your team to capture expenses without all of the paper. It's simply embracing technology to help run your business better.
Explore Our Blog

Success Stories

Additional Resources
Explore These Finance & Accounting Blog Posts
Poke around these blog posts about accounting and finance challenges and how even small technology changes can help you overcome them. You'll find lots of free resources, too.
---
Blogs About Automating Finance and Accounting Processes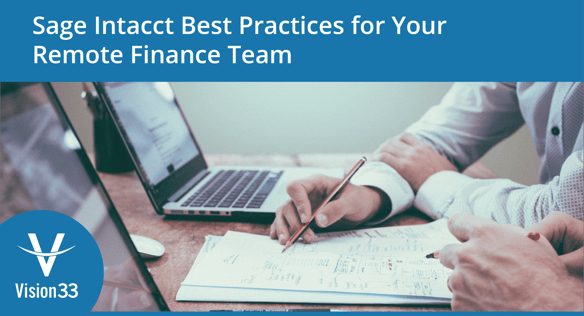 7 Best Practices for Professional Services Organizations
After the 2008 financial crisis, many professional services organizations implemented best practices with positive results, and businesses can apply those best practices today.
Read this blog to learn seven best practices for professional services organizations and how a financial management solution like Sage Intacct can help your organization become more resilient and adaptable.
Blogs for Professional Services Businesses and Nonprofit Organizations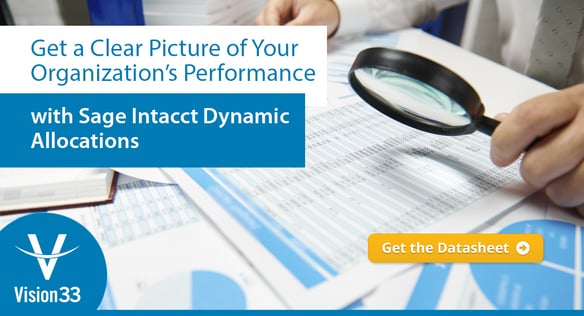 Get a Clear Picture of Your Organization's Performance with Sage Intacct Dynamic Allocations
Are you spending days or weeks every month calculating, verifying, and troubleshooting complex and cross-entity allocations? Do you wish you had more time to focus on strategic thinking, innovation, and growth?
Read this blog to learn how a solution from Sage Intacct can help.
Blogs for Manufacturing and Distribution Businesses
How to Get Your Customers to Pay Their Invoices Faster
Wouldn't it be nice to get your customers to pay you faster? This blog explains a payment processing add-on that has helped businesses provide added convenience to customers in non-traditional sales channels during the pandemic.
Small Business Accounting Software Dragging You Down?
The software you use to run your business is directly tied to achieving your goals for growth. If you're using small business accounting software, it may be holding your business back.
Read this blog to learn how to set your business up for success today and in the future.
See What Businesses Like Yours Are Up To
Hit the play button on quick, inspirational videos and read success stories to see firsthand how some of our awesome customers have conquered accounting and finance challenges through the right technology.
Watch this quick video to learn about an ERP solution that allows David Leadbetter to manage financials in real-time with budgeting and cycle counting functionality, and has given them a 15% uplift in revenue from real-time insight into business data.
Watch this quick video to see how with a powerful ERP solution in place, Key Info Systems can now create reports in real-time that they couldn't get from their previous financial package to make faster and more informed decisions.
Tune into this short video to learn about the ERP solution that has enabled Lime Crime to make sound business decisions, improve their operations around purchasing and inventory planning, and remain competitive.
Crocker Ventures were challenged with achieving accounting compliance and integrating three strategic business lines.
Read their success story to learn about a cloud-based solution that has consolidated their accounting applications, reduced duplicate data entry and provided simple inventory tracking to achieve industry compliance.
Access Some More Resources and Get in Touch
Here are even more finance and accounting resources for you to explore, including process automation and ERP solutions.
iDocuments is a browser-based solution that simplifies and automates purchase to pay, expense management and sales order processes. We've also included resources about Sage Intacct and SAP Business One, two popular ERP solutions.
If you have any questions or would like to chat about any of these finance and accounting resources, please feel free to drop us a line or Live Chat with one our Consultants to get your questions answered.

If you want to free up some time and be more productive on a daily basis, we invite you to check out this video about iDocuments.
See how easy it can be for anyone within your business to raise a PO and approve orders, receipts, invoices and expenses without any training.

If you run a professional services business or a nonprofit organization, Sage Intacct can be a great fit. Access a Sage Intacct Info Kit and Coffee Break Demo below.
If your business is manufacturing or wholesale distribution, SAP Business One may be the ideal solution. Learn more in the SAP Business One Info Kit below.
SAP Business One is a robust ERP solution that brings every aspect of your business – financials, accounting, inventory, customer relationship management and more – together under one simple platform. This easy-to-use information kit full of solution briefs, videos, demos and webinars.
Grab a cup of coffee, put your feet up, learn all about Sage Intacct and see it in action. This demo will show you how the modern, born-in-the-cloud accounting and financial management solution has everything you need to connect and streamline all of your business processes.
That accounting system you relied on to get your business started may have run its course. Sage Intacct's cloud accounting software products and financial management solutions deliver accounting capabilities for multiple industries with a single aim: to accelerate your success. Dig into the Info Kit below to learn how you can free up time to focus on innovation and growth.