What Is Cloud ERP?

Best Deployment Model

Why Cloud ERP

Cloud for Your Industry

Single-Tenant vs. Multi-Tenant

Your Cloud ERP Options

Vision33 Cloud Services

Integration

Success Stories

The Future of the Cloud
Cloud-based computing (aka software as a service, or SaaS) uses software applications that run on shared computing resources. These computing resources are hosted in multiple data centers that run multiple types of applications on numerous platforms.
Cloud ERP is ERP software that runs in cloud data centers accessible over the internet by any user with permission. A benefit of some cloud ERP systems is that the customer has choices regarding system deployment: 100% cloud-hosted or hybrid cloud, which is partially cloud-hosted and partially on-premises.
Depending on the ERP platform, cloud deployment can be in a multi-tenant environment (MTE) or single-tenant environment (STE). With MTEs, companies save money by allowing the cloud vendor to host their ERP system alongside other companies' ERP systems in a shared server environment. However, some businesses want the added security and greater flexibility of having their ERP on cloud servers dedicated to them, so they choose STEs.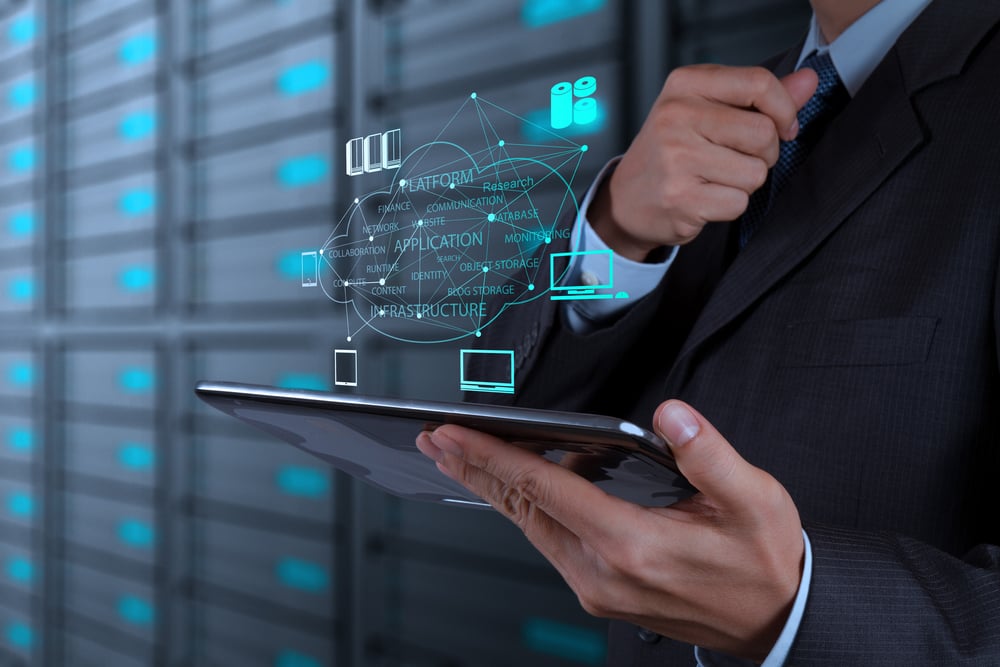 Whichever you choose, hosting ERP in the cloud saves money on internal infrastructure costs and protects your valuable information in secure, world-class data centers. Your staff gains access to your ERP anytime, anywhere, allowing them to focus more on running your business and less on IT.
Cloud ERP offers:
Access to your data anytime, anywhere, on any device
A safe environment with multiple layers of security
No risk of downtime or data loss
Shortened time to market
The best cloud ERP for you depends on your business circumstances. If you run operations in remote areas with a single IT professional and incur slow internet speeds and frequent telco outages, a highly distributed, pure cloud ERP deployment would offer the most innovation at the lowest cost. If you have a talented IT team and run critical on-premises applications that interact with ERP, you may prefer a hybrid cloud model. The best way to choose is by finding a deployment partner who offers every option and asks the right questions to help you decide.
Get Your Business to the Cloud Quickly
By moving ERP to the cloud, businesses no longer have to manage hardware, software, data storage, data protection, network connectivity, and more.
But the benefits of cloud ERP are even more significant. The powerhouse infrastructure providers behind cloud ERP, like Amazon Web Services (AWS), have shifted the playing field so cloud-based systems are more secure and reliable than their on-premises counterparts.
Cloud ERP's five major benefits:
Robust Business Continuity
A cloud ERP provider can proactively maintain your IT environment to minimize downtime, control threats, and avoid unexpected costs. For example, SAP Business One Cloud through Vision33 provides nightly backups of Business One databases and retains them for a week. Customers can run backups and configure snapshots automatically or manually using a variety of backup options, including EBS data backups, protection from accidental deletion, continuous archiving for long-term storage, and secure backups for on-premises data.
In addition, software upgrades are carried out remotely with redundancy to ensure valuable business data remains safe. AWS, the cloud provider for SAP Business One Cloud, provides a service level agreement commitment of 99.95 percent availability.
Disasters come in many varieties; two of the most common are ransomware attacks and unforeseen business outages. Organizations prepared with cloud-based disaster recovery (DR) for their ERP system perform better when faced with disasters.
Every company is vulnerable to outages and disasters. From common computer viruses and ransomware attacks to network outages, fires, and floods, interruptions wreak havoc on your daily business activities. Losing data, especially transactional data, negatively affects your bottom line, partners, vendors, and customers.
By creating a disaster recovery plan, your business can minimize downtime associated with a data loss outage or disaster. Vision33's disaster recovery preparedness and solutions for cloud-based ERP provide businesses with an automated cloud disaster recovery plan that protects valuable data, no matter where it resides or which disaster a business faces. Whether your SAP Business One system is on-premises, in the cloud, or in a hybrid cloud environment, Vision33 creates and delivers disaster recovery plans and associated data continuity solutions that fit your budget, systems, and processes.
Read how Vision33's cloud disaster recovery capabilities for SAP Business One saved the day for four organizations facing different disasters in different industries.

Watch this presentation to learn the best practices for disaster recovery in the cloud.

For a full checklist for ERP disaster recovery preparedness, read our blog.
Cloud ERP performs better than on-premises ERP for organizations with remote and mobile workers who want to access the system at various times from multiple locations.
The VPN problem: VPNs aren't equipped for a remote workforce. A VPN restricts remote access to applications because it must verify that each user is present and on site, whereas the cloud authenticates users from anywhere and provides secure, flexible access. VPNs also lack scaling, cannot optimize for user experience, and provide over-simplified authentication that fails to meet the requirements of a sophisticated, modern workforce.
Cloud ERP systems leverage modern security techniques and authentications suited to the cloud and remote worker access to applications. They also provide flexible scaling on demand. This means you can easily adjust the storage, network connectivity, bandwidth, and computing power to match your evolving business needs – and pay only for what you need.VPNs were never designed to provide app-level optimization.
With cloud ERP, your users can skip proprietary, closed databases and read your valuable data into other analytical systems, such as predictive analytics. The leaps forward in AI, and particularly machine learning, allow you to spot trends and stay ahead of competitors who have no high-capacity means for making sense of Big Data.
It's never too late to safeguard and protect your data. One of the biggest advantages of clouds like AWS is their flexible, yet highly secure environments. As the user, you have the sole authority on where data is stored. AWS operates, manages, and controls the components from the host operating environment down to handling the physical security of the facilities where the service operates.
When businesses adopt cloud ERP, they incur no upfront costs – no licensing, registration, or maintenance fees. They simply pay a monthly fee and can cancel any time. This model eliminates the high-stress, all-or-nothing commitment organizations once had to make with ERP. ERP costs are reduced in the cloud, as there's no need to purchase and maintain the supporting computers and network infrastructure.
Businesses need a cloud-delivered solution that provides access at the application layer and reduces the security attack surface, providing the best performance without hindering employee privacy.
Businesses need a cloud-delivered solution that provides access at the application layer and reduces the security attack surface, providing the best performance without hindering employee privacy.
Cloud ERP: an inevitable part of your digital transformation
Digital transformation is a requirement for survival.
Consider these companies that rejected digital transformation and where they are today:
Kodak
Polaroid
Blockbuster
Blackberry
RadioShack
Borders
Palm
Sears, K-Mart, JC Penny
These companies, however, embraced digital transformation:
Amazon
Uber
Netflix
Nest
Carvana
Your customers have gone digital. They consume content, engage with brands, and complete transactions via the web, mobile, and social media. Your B2B customers want to consume goods the same way they consume them in their personal lives. Consider these statistics:
69% of Americans say they've purchased an item online. (NPR/Marist, 2018)
78% percent of online shoppers value the availability of product reviews by other shoppers.(NPR/Marist, 2018)
74% of consumers say there has been a direct link between watching a video on social media and purchasing something. (Adweek, 2018)
92% of America's online shoppers say they've bought something on Amazon(NPR/Marist, 2018)
87% of e-commerce shoppers believe social media plays a vital role in their shopping decisions.
In 2018, Forbes projected that 20 percent of grocery sales would occur online by 2020 and reach $100 billion. In reality, that number is far higher due to the rapid move to working from home and the permanent changes brought about by worldwide lockdowns. Citrix data shows that 89 percent of workers access business applications from locations other than corporate offices.
The pace of change driven by digital transformation compels SMBs in all industries to get on board with their own digital transformations. It makes sense because cloud ERP easily connects with other SaaS applications, including analytics, mobile apps, databases, websites, enterprise apps, and cloud-based workspaces.
Eighty-six percent of companies believe cloud technology is critical to digital . It's the only way to connect physical and digital worlds, leverage powerful analytics, and avoid becoming irrelevant.
The cloud can help virtually any company.
Consider warehouse management. You can't move your physical inventory to the cloud, but the cloud can generate and store valuable data related to inventory management. With handheld scanners, barcodes, and RFID tags, warehouse employees can link inventory data to purchasing, sales, and accounting to answer questions like, "Which items need reordering?" "Which sales promotions should we use next month?" "Which inventory should we write off at tax time?"
In manufacturing, equipment health data—like temperature, flow rate, and pressure—helps managers schedule maintenance and downtime. After products are in the field, post-sales service is a significant revenue and profit center through the tie-in between the internet of things data and ERP. Your field services team becomes more productive when they can access digital information about products at customer sites.
The more digital innovations become 'baked' into products, the greater the need to track product, inventory, and inputs data and respond to it via the enterprise-wide information-sharing available through cloud ERP.
Not everything is cloud-ready
In manufacturing and distribution, elements of an ERP system will continue to run on-premises for several years, and quality control systems and other localized operational equipment require hybrid cloud deployments.
As an SMB leader, your first step toward the cloud should be engaging with a partner with expertise in your industry, in-depth ERP knowledge, and a history of solving similar challenges for other companies. Vision33 is that partner—we solve challenges for hundreds of small and midsized businesses every day.
Visit the links below to see how Vision33 helps businesses succeed in specific industries.
Single-Tenant vs. Multi-Tenant
The architecture in a single-tenant environment (STE) is dedicated to a single company with its own ERP solution and supporting infrastructure. In a multi-tenant environment (MTE), multiple companies share the same infrastructure for their ERP software and business data. The cloud provider partitions information to keep each company's data separate and secure.
There are advantages and disadvantages to STEs and MTEs.
Advantages of STEs:
Increased privacy
More control over upgrades
Improved backup and recovery
Advantages of MTEs:
Lower hardware, power, and upgrade costs
Seamless upgrades performed by the vendor
Optimized vendor support
Disadvantages of MTEs:
Company-specific needs may be difficult to achieve
Updates may happen unexpectedly and disrupt business
There are approximately 50 cloud ERP solutions on the market. Although Vision33 offers SAP and Sage products, there are other viable ERP options. The best solution for your business depends on its ability to underpin your unique business operations.
Limitations of cloud accounting solutions
QuickBooks and Sage 50 users get frustrated when they attempt to run a desktop software package remotely.
Small and medium-sized businesses are moving from accounting solutions like QuickBooks to cloud ERP solutions – particularly SAP Business One. While accounting software works well for startups, growing businesses need the broader and deeper capabilities ERP delivers, like platform integration, support for growth, and reporting.
Most of Vision33's cloud ERP customers migrated from QuickBooks. The move helped them eliminate incorrect orders and late shipments and improved satisfaction with their overall experience.
Are all cloud ERP solutions the same?
No, all ERP solutions are not the same. Vision33 has partnered with the companies we believe are the clear leaders for cloud ERP solutions in the industry: SAP and Sage. SAP offers SAP Business ByDesign, a cloud-based solution, and SAP Business One, which can be deployed on-premises or in a cloud environment, and Sage offers Intacct, a cloud-based solution.
Ultimate flexibility of SAP Business One deployments
SAP Business One has multiple cloud deployment options: 100% cloud, hybrid cloud, single-tenant cloud on AWS, or multi-tenant cloud on AWS.
SAP Business One is a certified solution on the AWS cloud. AWS is five times the size of other cloud vendors combined, provides a service level agreement commitment of 99.95% availability, and has the lowest downtime and fastest system performance across the board.
High-performance cloud ERP
SAP HANA is the in-memory computing platform for SAP Business One that supercharges the application's speed and allows you to analyze massive amounts of data in real-time. SAP Business One powered by SAP HANA is part of SAP Business One Cloud ERP, making it the highest-performing cloud ERP on the market.
Whether your business is starting with ERP in the cloud, moving ERP to the cloud, or simply comparing costs, this section summarizes issues to consider.
Five factors typically drive an organization to the cloud:
Ensuring a good work/life balance for employees
Speeding up the business
Making core business systems more flexible
Better equipping a mobile or remote workforce
Expanding internationally
Even when several of these goals are achievable by moving to the cloud, many business leaders are still reluctant. Common questions include:
If I already invested in on-premises software, can I move to the cloud?
How difficult is the transition?
How expensive is a cloud initiative?
Fortunately, answers are readily available. We took our vast knowledge from numerous cloud deployments among our 1,000+ SAP Business One customers and consolidated it into a valuable cloud information kit.
Vision33 offers ERP implementation flexibility with 100% cloud, hybrid cloud, and single-tenant or multi-tenant options. With each option, we ensure maximum payback and fast deployments with three focal points:
Efficient deployment. Vision33 has more experience deploying your solution than in-house IT employees. We leverage the cloud to perform fast and effective implementations and upgrades. And since there's no need for on-premises work from us, you can enjoy the benefits of your solution faster and with fewer roadblocks.
Streamlined business operations. Vision33 unlocks the potential of the cloud, extracts the benefits, and reduces your processes' complexity. This allows you to integrate systems and consolidate your data into a single, user-friendly platform.
Advanced analytics. Vision33 leverages the most advanced cloud-based analytics solutions on the market to give you more insight into your business. Accessing company data, dashboards, and reports from virtually anywhere allows you to give your customers additional value and remain agile in your market.
Critical facts about Vision33's leadership in the cloud:
Vision33 offers multiple cloud-based ERP solutions, including Sage Intact and SAP Business ByDesign. We also offer SAP Business One in a cloud-based environment through Amazon Web Services (AWS).
Vision33 is the only SAP Business One partner that holds the AWS SAP Competency.
Vision33's prestigious status, recognized by the AWS Partner Network (APN), highlights technical proficiency and proven success in helping customers implement, migrate, and manage SAP Business One on the AWS cloud.
300+ Vision33 customers use innovative AWS technology.
Vision33 developed The Saltbox Platform as a born-in-the-cloud iPaaS (integration platform as a service) solution for enterprise integration, workflow, and collaboration between business applications. Saltbox is a cloud-centric tool specifically for connecting transactional data between critical business systems.
Brochure: Vision33's Transformative Cloud ERP Services
New offer: Vision33's Custom SAP Business One MTE Cloud on AWS
Remote implementations from Vision33
Vision33 now offers remote implementations of our ERP systems where suitable. This delivery model allows you to get up and running in the cloud without being in your office and eliminates the travel, meetings, and incidental costs of in-person deployments.
Here are a few examples of our recent 100%-remote deployments:
Final stages and go-live shift for a UK-based power tools company
Go-live on Amanda Version 7 for an entire county in California
Upgraded an Ontario, Canada city to Accela version 19.1, including go-live
Progressed the Development System Office to go-live in a U.S. city under strict COVID-19 lockdown. The client said, "I appreciate the excellent work the Vision33 team did to get us to this milestone on time and on budget."

Integrations & Add-Ons
The Saltbox Platform by Vision33 is a cloud iPaaS (integration platform as a service) solution for enterprise integration, workflow, and collaboration between business applications. It provides an extensive list of pre-built connections for common business applications, including Shopify, HubSpot, and Salesforce, and technology connectors for SQL Server, JSON Converter, SAP HANA, REST API, and SMTP.
These integrations ensure compliance with a broad set of regulations, supercharge your ERP environment, and increase the value of your existing business applications. To learn more about Saltbox, visit the integrations & Saltbox web page.
Want to achieve compliance and streamline EDI processes simultaneously? Check out this blog and included video links to learn how.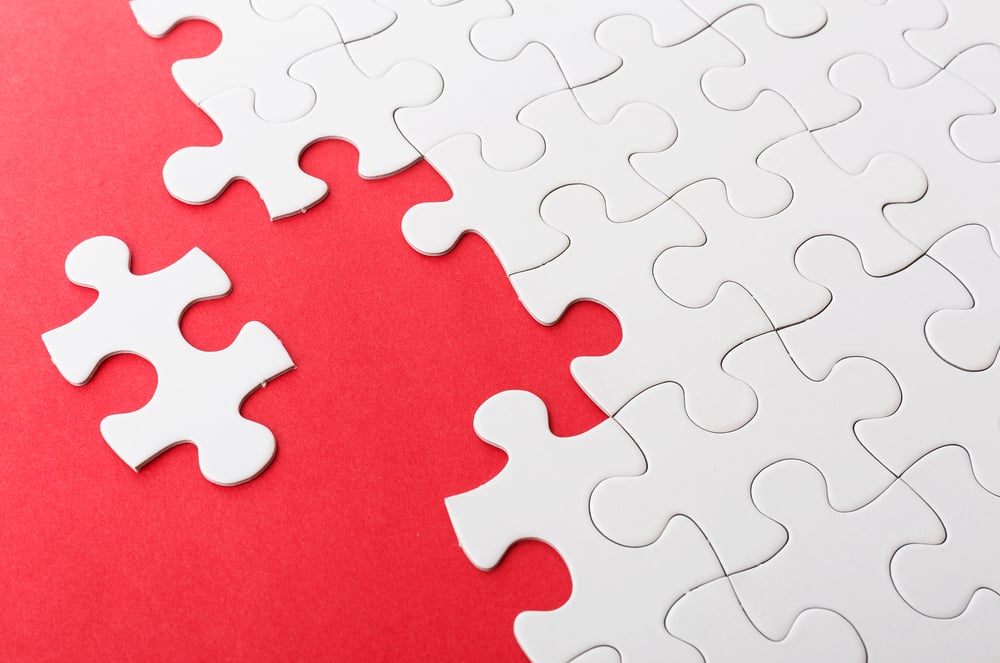 Below are several examples that will inspire your business to realize the potential of the cloud.
SMBs will benefit considerably from a cloud-based ERP solution. This highlights six key drivers of ERP cloud. They sound nearly identical to the capabilities of our solutions when combined with our flexible deployment options:
The continued rise of hybrid cloud
Edge computing
Hyper-scale data centers
Demand for disaster recovery as a service
Interest in hyper-converged infrastructure
Increased use of AI (analytics) in the data center
Recorded webinar: Now More Than Ever, Why You Should Care About Digital Transformation