Free up time to put your efforts where they can have the most impact.
As a CFO, consider the list of strategic projects or ideas you want to focus on but can never get around to.
What if you could:
Close the books 80% faster
View key metrics instantly
Consolidate entities in minutes
Work anywhere, anytime
It's possible! You made a great first step with Sage 50 – but times have changed, and so has your role. You need a system that will help your business every day, not hinder it.
Move through the sections below to learn how moving from Sage 50 to Sage Intacct is the best next step for your business.
Why Businesses Migrate From Sage 50 to Sage Intacct

Is it Time for you to Migrate to Sage Intacct?

Leap Ahead While Staying With Sage

Benefit From a System Built for Finance by Finance

Sage Intacct for Your Industry
Why Businesses Migrate From Sage 50 to Sage Intacct
Growing small and midsized businesses rely on Sage 50 for their accounting and financial management needs. However, due to growth and increased competition, they've recognized the need to advance beyond Sage 50's capabilities.
Many Sage 50 customers seeking to improve speed and agility have migrated to the cloud with Sage Intacct™, Sage's flagship, award-winning native cloud product. Customers switch to Intacct because it's a simple, fast, and scalable cloud-based solution with more capabilities than Sage 50.
Multi-Dimensional Reporting
Generate reports in seconds rather than days with calculated fields and unlimited dimensions.
Gain real-time visibility into critical metrics with dashboards.
Reduce audit times by up to 50% with clear audit trails and direct auditor access to reports.
Streamlined Multi-Entity Management
Consolidate hundreds of entities in minutes instead of days from a single instance.
Close the books 80% faster.
Set up new entities in minutes without expensive consultants.
Built for the Cloud
Grant anywhere, anytime access with 99.8% guaranteed availability and rigorous security certifications.
Eliminate upgrade disruption with four feature-rich yearly upgrades delivered automatically.
Integrate easily and inexpensively using Intacct's modern cloud APIs for always-on integrations at a fraction of the cost of on-premises integrations.
Automate Scalable Financial Processes
Grow revenue 2x-4x with little to no additional headcount.
Automate PR, PO, and payment approval workflows to increase efficiency by 50%-90%.
Reduce days sales outstanding (DSO) by 30%-60% and generate free cash flow with automated invoice generation and payment processing.


Is it Time for you to Migrate to Sage Intacct?
Many businesses rely on ad-hoc workarounds in their financial management systems to remain operational and maintain the status quo. However, that doesn't work forever. As nimble competitors interact with your customers and partners, the pressure mounts on your teams to act faster and be more productive.
Fortunately, it's easy to recognize if Sage 50 is causing your business to lag, and it's time to migrate to Sage Intacct. Signs include:
Producing 60% or more of your reports in Excel
Managing two or more entities
Finance personnel spending 10+ days closing the books
Employees having difficulty accessing your system remotely
Staff missing deadlines and making mistakes
Needing to increase headcount because of manual processes
To further understand these challenges – and how Sage Intacct overcomes them – read this whitepaper: The Top 5 Reasons to Migrate from Sage 50.
To understand Intacct's functionality compared to Sage 50, view this table of eighteen Sage 50 functional issues and how Sage Intacct resolves them. View the table >>
Sage Intacct's customers achieve big results quickly.
» Average 250% ROI » Payback in less than 6 months » Productivity gains over 65%
Leap Ahead While Staying With Sage
No business wants to disrupt operations to upgrade their core systems, which is one reason Sage Intacct is the ideal replacement for Sage 50. Although Intacct is a giant leap forward in financial management capability, you won't need to re-train your staff because they already know how to use Sage.
Migrating to Sage Intacct will also be easier because SAP designed the system to carry forward how you currently use data and workflow elements within your Sage 50 implementation.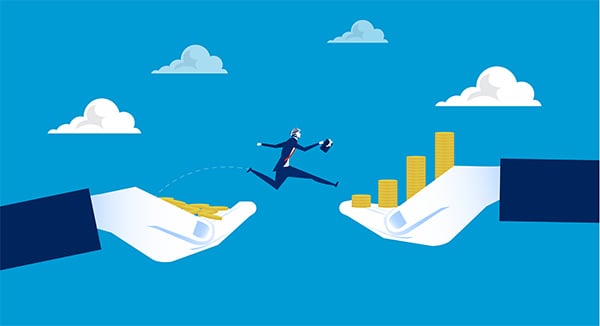 Imagine gaining all the functionality of a modern, cloud-based Sage financial management system without the overhead and resource requirements of a standard migration.
Benefit From a System Built for Finance by Finance
Sage Intacct is a flexible, configurable accounting software solution built on a true cloud foundation. Its robust technology infrastructure makes it easy to share data and integrate with best-of-breed solutions without sky-high IT costs.
Designed by finance professionals for finance professionals, Intacct's modern user interface (UI) is responsive to how your finance team wants to work. To fully appreciate its finance-friendly design, watch the Sage Intacct Intelligent GL video below.
Watch Sage Intacct Intelligent GL in Action
As a best-in-class financial management solution, Sage Intacct provides a simple, flexible open API to dozens of related solutions, including Salesforce, Expensify, and Kimble. The easy connection and integrations with other solutions make configuring Sage Intacct to fit your industry and business requirements fast and effortless.
Watch this video to learn about the critical features Sage Intacct provides businesses like yours every day.
Ready to see more? Book a demo to see how Sage Intacct can be a game-changer for your business.
Sage Intacct for Your Industry
Your organization is unique – so why settle for a one-size-fits-all financial application?
Sage Intacct delivers powerful features and functions for your industry. Click on your industry below to learn more.
Intacct for Financial Services
Sage Intacct helps you integrate data from multiple systems, monitor financials from diverse portfolios, consolidate results across multiple operating companies, and create timely and actionable reports for your board.
Common use cases include:
Managing multiple entities
Simplifying/consolidating multiple finance systems
Performing inter-company transactions
Establishing automated workflows for authorization approvals
Gaining live consolidation and drilldowns
Accessing reports in real time
"Sage Intacct frees me up to be a better partner to the C-Suite. I can get into analysis for strategic planning rather than just managing tactical financial processes because the team can handle those now without me. And that's removed a tremendous burden for me."
Barbra Harris (CFO, Pathway Lending)
Download this eBook to learn how Sage Intacct will drive your financial services business to new heights.
Watch the Sage Intacct Product Tour Video for Financial Services Organizations. Watch Video
Intacct for Professional Services
Sage Intacct enables professional services organizations to manage multiple diverse financial tasks while continuously adapting to changing customer needs and market dynamics.
Watch the on-demand webinar below on 'How to Track the Top 5 KPIs of Professional Services Organizations Using Sage Intacct.
"Sage Intacct helps us quickly process thousands of transactions every month so we can keep up with the company's growth while minimizing the need for additional headcount. Plus, our team is now motivated to further automate processes, build new customer reports, and more because we have the bandwidth and confidence to do so."
Sabry Mohideen (CFO, Marathon Ventures)
"It used to take me 16 hours every quarter to do our partial exemption VAT return; using Intacct, it now only takes me 8 hours once a quarter. It has halved the time."
Karyn Hood (Management Accountant and Company Secretary, East Malling Trust)
Financial professionals in non-profit organizations face unique challenges like program and project management, fund balancing, and complex reporting. Sage Intacct helps you tackle these issues with greater efficiency and managerial visibility and less reliance on error-prone spreadsheets.
Watch this video to discover how Sage Intacct helps you be GAAP compliant and answer the complex financial questions across your non-profit entities.