Since starting in the 1970s, SAP has developed deep experience across a range of industries; it makes sense that the company's goal with SAP Business One is to provide the best solution for as many business types as possible. But no software developer can create the depth of product that works well for every type of business, so SAP's large enterprise products are designed for customization. SAP Business One has deep functionality ideal for vertically enhanced integration with software from partnered software solution providers (SSPs). SAP Business One is both adaptable and easy to integrate with.
SAP released the initial software development kit (SDK) for SAP Business One in 2004 and expands the integration points with every new product release while also making the integration tools easier to use.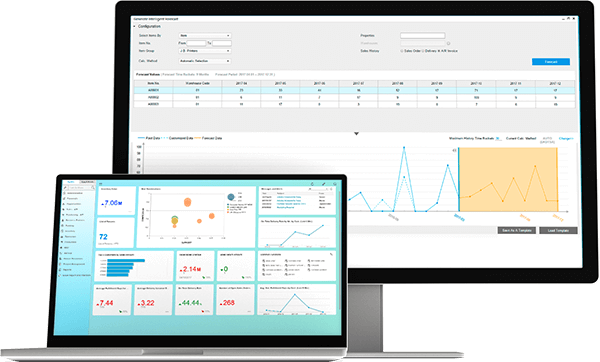 SAP Business One for Manufacturing

SAP Business One for Wholesale Distribution

SAP Business One for Food and Beverage

Inventory Management Software for Retail

SAP Business One for Life Sciences

Software Solutions for Oil and Gas

Software for Aerospace & Defense
SAP Business One Manufacturing
SAP has a long history in manufacturing and SAP Business One is an all-in-one manufacturing solution that provides the accurate, real-time information growing manufacturing companies need to effectively run their daily operations.
Whether you need a system for project-based, discrete, or process manufacturing, SAP Business One and Vision33 have a solution. Some of the manufacturing businesses you'll find SAP Business One installed in include:
SAP Business One for Wholesale Distribution
The inventory management tools in SAP Business One help your growing company manage detailed warehouse data and track and record stock movements; the software also offers an affordable way to manage your supply chain and enhance customer satisfaction. With SAP Business One, you get reliable, real-time information about inbound and outbound shipments and inventory data so you can extract insights and meet customer demands and expectations.
Whether you stock and ship hard or soft goods, food, or other items with complex serialization and lot tracking, or your services are a mix of drop ship, 3PL, and stock and ship, SAP Business One will smooth your operations and improve your operating margin.
With integrated solutions for EDI, shipping logistics, and supply management, Vision33 can automate your warehouse in ways you had only previously imagined.
Learn more about SAP Business One for wholesale distribution.
SAP Business One for Food and Beverage
SAP Business One is a complete software system for growing small to mid-sized companies in the food and beverage industry. SAP Business One, along with enhanced capabilities provided by solutions partners, allows you to produce and distribute fresh and packaged food products. Key benefits for our customers in produce, food, & beverage businesses include:
Better shelf-life management
Compliance with strict industry standards
PTI-compliant labels and GS1 barcoding
Full product traceability
Cost calculation at the batch, production, and article level
Complete quality management control
"SAP Business One is a powerful program that allows me to quickly capture and move information that I need to make better, more informed decisions for my company."
Dave Hirschkop, Owner/President of Dave's Gourmet
Inventory Management Software for Retail
Retail management software from SAP will help streamline processes between your retail channels and optimize performance to cater to customer behaviors. It provides a unified solution for the omnichannel age.
From point of sale, mobile payments, and your online store to managing your supply chain, inventory, loyalty program, and more, SAP Business One is proven to help retail companies increase revenue, profitability, and market share.
You'll find SAP Business One for retail in shops for:
Apparel
Footwear
Specialty and gifts
Sporting goods
Electronics and hard goods
Bookstores
Wine and specialty food
SAP Business One for Life Sciences
Leading healthcare and pharmaceutical companies are adopting SAP Business One to improve the efficiency of business operations, increase employee productivity, and respond easily to market demands.
The software allows you to manage complex data and compliance with a single scalable product fit for small and mid-sized businesses in:
Pharmaceutical development, production, and distribution
Cosmetics development, production, and distribution
Medical device and equipment manufacturing, distribution, and service
Life sciences related research and testing
"With SAP Business One, we have the ability to get information out quicker and offer our customers another level of service."
Ted Wiebe, Controller GFR Pharma Ltd.
Software Solutions for Oil and Gas
In an industry experiencing an unprecedented amount of innovation, oil and gas businesses must re-imagine themselves and learn how to forecast, react, and adapt to customer demands faster and better.
SAP Business One enables companies in the oil and gas field services industry to be resilient through:
Field service management
Vendor management
Streamlined operations
Dashboards and reports
Software for Aerospace & Defense
All parts and logistics suppliers in the aerospace and defense industry are required to meet strict compliance standards, global supply chains, aggressive delivery cycles, and a highly cyclical sales process.
In a complex environment that's more competitive than ever, failure to meet and document these compliance requirements while remaining agile in the market has a huge impact on your supply chain performance, vendor relationships, and overall profitability.
To succeed in this industry, manufacturing and distribution companies need to be tightly integrated with their products and vendors. SAP Business One combines general business management processes with unique traceability and project management capabilities that enable you to become more efficient and improve your everyday business operations.