Introduction

Challenges

Benefits

Features

Take the Next Step
Financial Systems for Financial Services Firms, including:
Single- or multi-family office wealth and asset management
Real estate companies
Investment trusts
Venture capital firms
Private equity firms
Lending institutions
Insurance carriers
Credit unions
A powerful, born-in-the-cloud financial management platform integrates with other best-of-breed solutions and makes it easy to share data. And with a modern user interface, flexibility, customization options, advanced core financials, and focused industry features, the right accounting software unlocks growth for your business.
The right financial management solution will provide unmatched multi-entity management and advanced financial reporting.
Vision33 helps you choose and implement the best solution for your business.
When your business revolves around maximizing growth and profitability while minimizing costs and risks, your financial management tools significantly affect your bottom line.
The right financial management solution:
Provides integrated financial and management reports across holding and operating companies in minutes, not hours
Has the connectivity, visibility, and efficiency to drive optimal performance
Offers detailed, real-time insights that empower you to make better decisions and enable strategic growth
Allows you to do more with less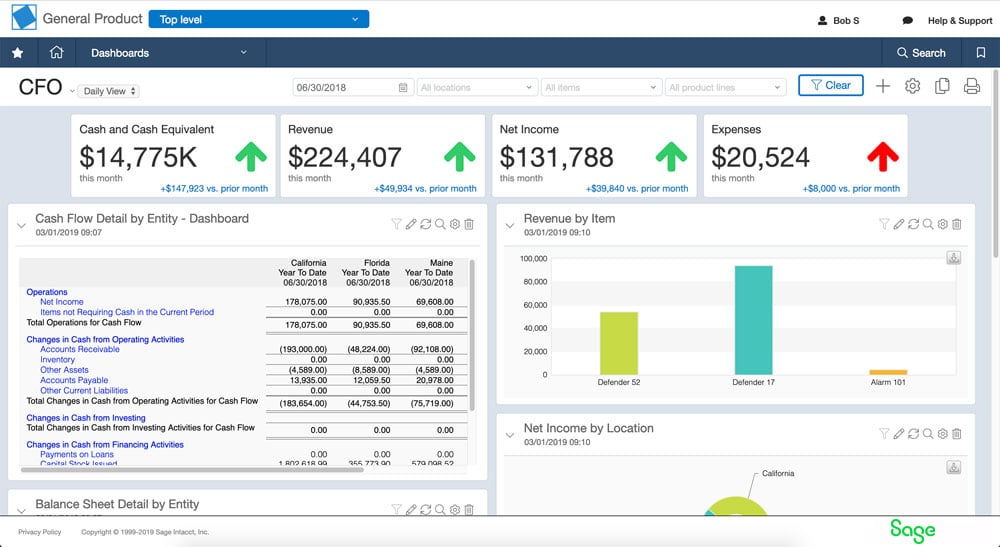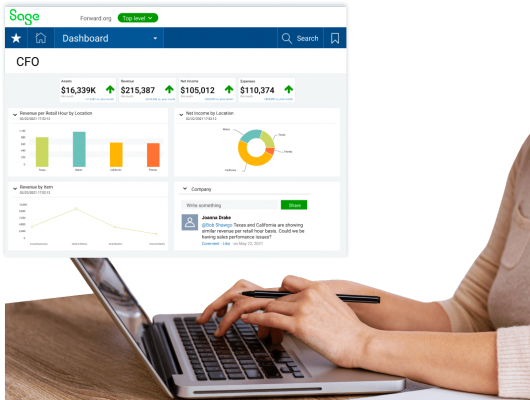 With the right software, you'll get continuous consolidation and drill down across multiple funds so you can reduce your roll-up times and focus on strategy instead of paperwork. Quickly generating consolidated reports, sharing cross-entity data, and keeping your financials audit-ready gives you unprecedented depth and visibility into your finances.
The right software for your business frees up resources for value-add activities by automating and streamlining processes like:
Procurement
Month-end close
Consolidations
Allocations
Fund management
Compliance reporting
The Benefits of a Financial Management Solution for Financial Services Firms
A modern financial services firm management solution has workflow automation, multi-entity management, and native third-party integrations designed to meet your organization's needs.
At Vision33, we sell and implement modern software systems that ensure profitable operations and improved customer satisfaction for thousands of companies—regardless of your specific financial services specialty. Our customers include:
Wealth and asset management
Real estate
Venture capitalists
Private equity
Insurance
Lending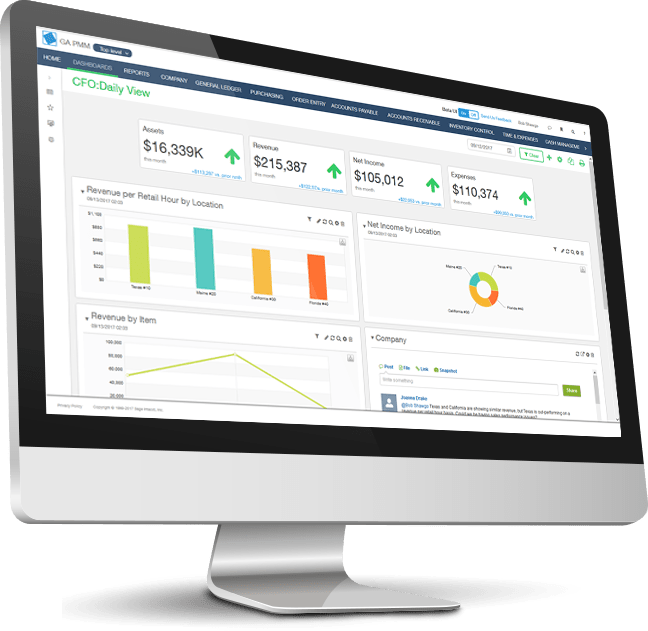 By combining smooth operational workflows with greater financial visibility, you connect your asset management on a single, efficient platform that maximizes productivity and scales with your business.
With a modern software platform designed for growing financial services firms, you can:
Automate consolidations. Shave days or weeks off your monthly close time with multi-entity management. Never wait for month-end to get up-to-date, consolidated business information.
Adapt faster. Get fast answers to crucial business questions and respond to changing market demands. Reports that took months to complete are now available in minutes.
Maximize profits. Use dimensional accounting and native pivot-type reporting to track and filter metrics. Slice and dice data to identify profitability for multiple dimensions (e.g., project, department, client, and service type). Operate more efficiently and stay focused on the value-add priorities that drive growth.
Streamline operations. Eliminate manual accounting tasks with automated workflows, real-time dashboards, and focused financial services industry functionality.
Optimize resources. Get instant visibility into KPIs and other metrics. Use improved insights and real-time dashboard reporting to make strategic decisions.
Centralize data across business apps. Seamlessly connect your CRM, industry tools, or other business applications to your platform for a single, integrated system.
Best-in-Class Features
The accounting solutions offered by Vision33 include:
Industry-leading, powerful core financials
User-friendly reporting and dashboards
Advanced functionality tailor-made for financial services firms
Multi-entity and global consolidations
Multiple reporting and tracking dimensions
Dynamic allocations
Time and expense management
Contract and subscription billing
Automation for investment, capital, and claims reporting tasks
Real-time visibility into metrics
Less paperwork, more time for strategizing
Take the next step by exploring our product information gallery full of brochures, videos, and more to learn about the different ERP systems Vision33 offers.
You can also browse our success stories to see what our customers have to say about how ERP has helped them run simple, grow fast, and drive profit.
Then let's discuss your financial services firm's growth challenges and which ERP system will help you reach the next milestone in your mission. Vision33 provides the right balance of software and consulting to maximize financial services firms' investment in transformative enterprise technologies. Contact us to chat with a certified Vision33 consultant about your financial management needs.