Every company is vulnerable to outages and disasters. From common computer viruses or network outages to fires or floods, such interruptions can wreak havoc on your daily business activities.
Disaster recovery is about preparing for and recovering from a data loss disaster of any size. To minimize downtime, you need a formal data backup and recovery plan – you need your data back quickly and reliably.
Why Choose a Disaster Recovery Plan with Vision33?
Finding a partner with an in-depth knowledge of business processes and the expertise to deal with information security is challenging. Vision33 offers the best of both worlds.
We go further than implementing, migrating, and managing SAP applications; as the only SAP Business One partner that holds the AWS SAP Competency, we have the expertise and team to help you decide which backup solution is best to keep your data safe.
Whether your SAP Business One system is on-premise or in the cloud, we effectively create and deliver the right disaster recovery plans or data continuity products that fit your budget, systems, and processes.
Benefits
Fast performance

–

Be up and running in under 5 hours.

Compliance

–

Retrieve files quickly to avoid fines and missed deadlines.

Elasticity

–

Add, delete, and expire any amount of data quickly and easily.
Dependability

–

Remain low risk with quarterly testing and reports.

Flexibility

–

Use on-premise, on-premise to cloud, and cloud to cloud.

Affordability

–

Keep costs low with an immediate cost benefit and no lost transaction data.
Disaster Recovery Webinar Recording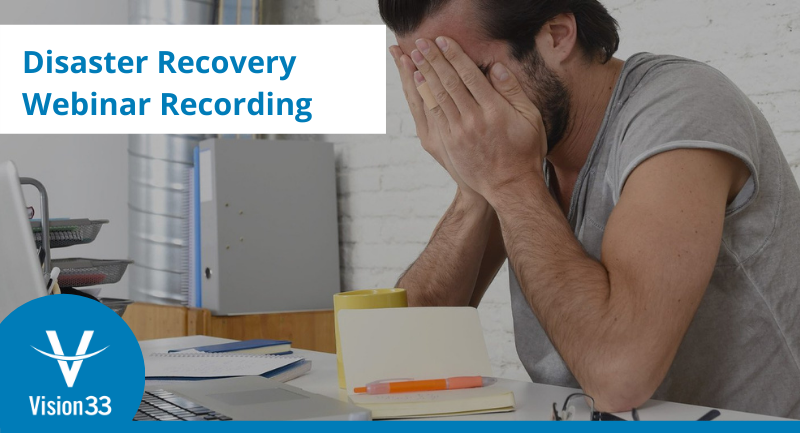 8 Tips for a Disaster Recovery Plan