Vision33, a Global SAP Business One,
SAP Business ByDesign

and Sage Intacct Partner, is in St. John's, Newfoundland and Labrador and ready to help.
210 Water Street, Suite 400, St. John's, NL A1C 1A9
We love to answer questions about SAP Business One, SAP Business ByDesign, Sage Intacct, Saltbox, iDocs and any of our products and services. Please contact us below to learn more about ERP implementation and system integrations and automations. Our team of world-class, knowledgeable and helpful consultants are ready to answer any of your questions.
Vision33 solves customer business challenges through the promise of technology and the value it delivers. We partner with growing and large organizations in both the public and private sectors to understand their vision and help them attain it with the right blend of strategy, consulting, and technology. Vision33 has unmatched experience delivering solutions to support every core business function. Our work spans all major industries. Vision33 employs over 500 employees globally to provide world-class experience through out office locations across North America and Europe.
Current customers, can contact the Vision33 TOTAL Care HelpDesk for the fastest support.
Vision33: A Global SAP Business One Partner

---
INDUSTRIES SERVED
Manufacturing
Distribution
Retail
Food and Beverage
Aerospace & Defense
Life Sciences
Oil & Gas
SAP Business One is an affordable, easy-to-use business management solution designed specifically for growing small to mid-sized businesses and subsidiaries. SAP Business One is not a scaled-down version of the larger SAP products.
From financials and accounting to inventory and customer relationship management (CRM), all of your key business areas are integrated to provide clear visibility into your entire business. By capturing data into a single centralized locations, you can access critical real-time information to make fast, informed decisions.
Trusted around the world, SAP Business One is a scalable, proven solution available on-premise and in the cloud powered by Amazone Web Services (AWS). SAP Business One has the functionality to help you transform your business by leveraging information to maximize efficiency, reach new customers and drive profitable growth.
Vision33: A Global S/4HANA Cloud, public edition Partner

---
INDUSTRIES SERVED
Manufacturing
Wholesale Distribution
Retail
Professional Services
SAP S/4HANA Cloud, public edition is a modern, intelligent, cloud-based enterprise resource planning (ERP) solution that streamlines operations, improves decision-making, and keeps businesses competitive in a fast-changing market.
As a software as a service (SaaS) solution, SAP S/4HANA Cloud is scalable, flexible, and easy to use, making it suitable for businesses of all sizes and industries. This cutting-edge technology provides real-time and predictive analytics and machine learning capabilities—all on one platform.
And because it's cloud-based, SAP S/4HANA Cloud eliminates the need for extensive IT resources or upfront hardware and software investments.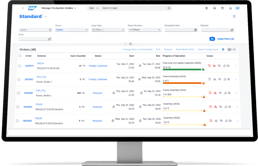 LEARN WHAT SAP S/4HANA Cloud CAN DO FOR YOU
LEARN MORE: SAP S/4HANA Cloud, public edition
Visit Page
Vision33: A Global Sage Intacct Partner

---
INDUSTRIES SERVED
Professional Services
Non-Profits
Financial Services
Technology & Software
Sage Intacct is a flexible, configurable accounting software solution built on a true cloud foundation. It offers robust technology infrastructure to any organization, making it easy to share data and integrate with best-of-breed solutions (like Salesforce) without sky-high IT costs. With a fresh, modern user interface, intacct is a powerful born-in-the-cloud financial management system that empowers your business to accelerate the path to success.
Built by financial professionals and for financial professionals, Intacct provides a depth of financial capabilities you won't find in a traditional, all-in-one software suite. Intacct is easily adapted to the way you do business - not the other way around. With Intacct, your financial team can be more insightful and productive which ultimately drives growth for your business. And as that growth continues, the flexible platform of Sage Intacct gives you the scalability you need to ensure your system keeps up and keeps everything on track.
Saltbox :: Integrate Existing Applications and Unify Your Enterprise

---
KEY FEATURES
Autoscaling
Visual Field Mapping
Visual Workflow Creation
Dashboard and Metrics
Intuitive Error Tracing
Webhook Support
API or File Based Integration
Various Options for Applications
Businesses continue to shift from out-of-the-box software suites to a complex set of independent applications that need to work together. This change means these applications must transform and transfer data continuously – often in real-time. That leads to an ongoing burden of maintaining integrations between multiple systems and tools. The Saltbox Platform eliminates this burden and seamlessly connects the applications you rely on to run your business.
Unlike customized development projects, the Saltbox Platform is simple to implement. A low-code process speeds your project and requires fewer revisions during the integration process because innovation happens closer to the application and user.
In a traditional point-to-point integration, more integrated applications equal more connection lines. Things get complex and cluttered, and the headaches and mistakes creep in.
Using the Saltbox Platform as a central connection hub eliminates much of the connection complexity. The more applications you need to integrate, the more valuable the Saltbox Platform is. And because your applications are integrated with a platform rather than point-to-point, it's easier to change one application for another without disrupting your entire environment.
iDocuments: Taking the People Out of the Process

---
APPLICATION FRAMEWORK
Browser-based user interface
Mobile apps
Seamless finance system integration
Dashboard
Smart Search
Powerful workflow engine
Automatic out-of-office workflow routing
Flexible business rules and application configuration
International reach
Automated alerts and notifications
Audit trail and history
KPI and analysis reports
iDocuments is a browser-based solution that frees your team from manual, tedious tasks and allows your business to focus on innovation and growth.
iDocuments integrates with your existing ERP solution, eliminating the duplication of data and extending the reach of your ERP solution to your entire team – without the added cost of extra licenses.
Purchasing, AP invoice, expenses, sales and self-service HR solutions give you total control of and complete visibility into your entire operations. Best of all, iDocuments is intuitive and easy to use, requiring little if any training.
At the heart of iDocuments is a powerful Advanced Data Capture Engine that automates data processing and becomes a vital part of your business' digital transformation journey.
iDocuments incorporates a standard framework and set of tools that are designed to simplify daily business activities, reduce manual and repetitive tasks, and improve control and visibility.
iDocuments Purchasing automates, streamlines and simplifies your entire purchase to pay process, helping you to reduce errors, save time, control spend, and improve cash flow visibility.
iDocuments Expenses is an easy-to-use web-based and mobile expense management solution that enables expense claims to be created, submitted, stored, reviewed and approved and audited online.
iDocuments Sales Order Automation captures emailed orders and processes them with no manual entry. That means you save time, reduce errors, and your sales team can focus on awesome customer service.