Automating Your Non-Profit Accounts Payable With Vision33 and Quadient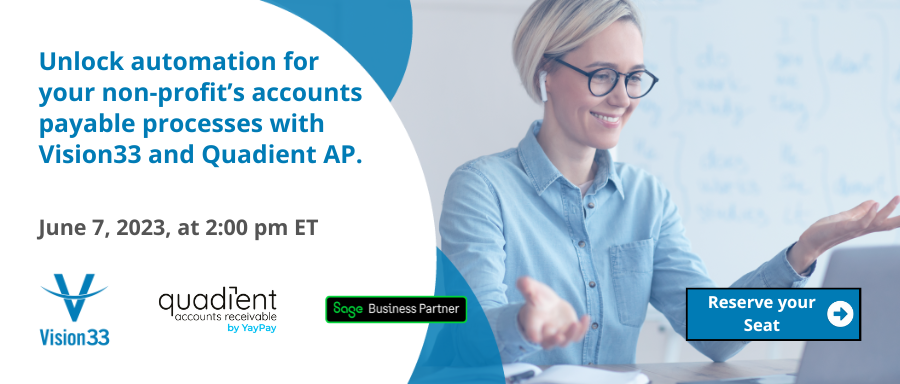 ---
Details about the SAGE Event
Webinar
Wednesday, June 7, 2023 at 2:00 pm ET
Join us for a live webinar: Automating Your Non-Profit Accounts Payable With Vision33 and Quadient
Unlock automation and seamless integration for your non-profit accounts payable (AP) processes with Vision33 and Quadient.
Are you ready to say goodbye to time-consuming manual AP processes and hello to streamlined, efficient workflows?
Join us on Wednesday, June 7, 2023, at 2:00 pm ET to see how.
This webinar explains how Sage Intacct's AP integration, powered by Quadient, revolutionizes your non-profit's financial operations.
Sage Intacct is a comprehensive cloud-native financial solution designed by finance for finance.
And by using the Sage Intacct and Quadient AP integration, you can:
Get complete visibility and control of all four AP workflows—purchase orders, invoices, expenses, and online payments—in one place

Reduce data entry and approval follow-up

Have a cost-effective, less error-prone AP function

Streamline and automate workflows

Improve your financial visibility
You'll (finally!) have time to achieve new levels of productivity and profitability.
Don't miss this chance to see how Vision33 and Quadient can empower your non-profit finance department to truly support growth and success.
Reserve your spot for our live webinar!
We look forward to seeing you.
Who Quadient AP is:
Accounting teams can collaborate anytime, anywhere with Quadient AP Automation by Beanworks. And because it gives you greater control and AP visibility, you can reduce risks and hold all departments accountable for following finance processes.
With Quadient AP, you can approve workflows for POs, invoices, and payments and automatically route requests to the right staff at the right time. Quadient AP also reduces follow-ups, data entry, and invoice processing costs.
Who we are:
Vision33 is an award-winning Sage Intacct partner and the leading provider of integration and automation solutions for the Sage channel and its customers. Our team loves helping non-profits transform accounting frustrations into mission success.
For over 30 years, Vision33 has helped thousands of small and midsized companies adapt, grow, and scale with the promise of technology.
Vision33's nearly 500 employees offer product expertise, business experience, and innovative technology leadership to over 1,000 customers worldwide.
"It felt like the Vision33 lead consultant was part of our team. Sage Intacct does everything we need it to do, and it works great." – Chris Huestis, Director of Finance at NS Pension
---
Other Events
Click to view Vision33's other events